Best Mattress for a Guest Room
Choosing a mattress for a guest room can be almost more challenging than selecting a mattress for yourself:
You have to think about multiple people's needs and preferences.
Your bed might be sleeping couples and single adults alike.
It might have to accommodate sleepers of different heights.
There are endless possibilities. Good thing we've taken the guesswork out of choosing a mattress to fit everyone's needs. Below, we'll talk about a few of the best guest beds on the market and how to pick the one that best suits your needs.
Best Memory Foam Mattress for a Guest Room: Zoma Mattress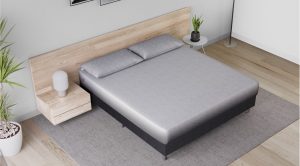 If you're looking for an amazing guest room mattress that will offer the most adaptability and versatility, the Zoma Mattress is for you. This mattress was designed by and for athletes, meaning it's built from top to bottom with restorative sleep in mind.
In the comfort layer, you'll find Zoma's proprietary three-zoned TriangulexTM gel foam. This foam targets different areas of the body. It offers more support to lighter areas like the head and feet and more cushioning to heavier areas like hips and shoulders. Gel infusions work with the AirCloth cover to ensure cooler sleep.
Underneath, the ReactivTM transition layer puts the bounce back in the comfort layer and helps make this a responsive bed for active and combo sleepers. No matter how much your guests toss and turn during the night, the Zoma will spring back into place.
Underneath the transition foam, the Support+ bottom layer helps encourage alignment in the spine. It also ensures the Zoma Mattress will retain its shape and resist sagging. This means you can expect this mattress to last a full ten years.
All foam layers are certified by CertiPUR-US®, which means they are free of potentially harmful chemicals.
As with all Zoma products, the Zoma Mattress comes with free shipping and free returns. It also offers a 100-night sleep trial. That makes a purchase from Zoma truly risk-free!
Best Hybrid Mattress for a Guest Room: Zoma Hybrid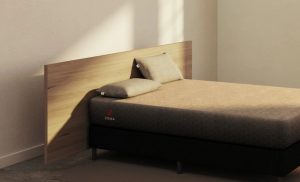 If you want to enhance your guests' experience even further, the Zoma Hybrid is a great mattress. The Zoma Hybrid adds luxury and breathability to the original Zoma. The Hybrid swaps the Support+ core for a support layer of pocketed coils for adaptability and enhanced edge support.
These coils help pull body heat away from sleepers to create a refreshingly cool night's sleep. The pocketed coils are also responsive and adaptable at the same time. Perfect for active sleepers who like to toss and turn or couples with different sleep styles.
Above the coils, you have a layer of cooling perforated gel memory foam and the same ReactivTM response layer. The ReactivTM transition layer doesn't just add responsiveness to the Zoma Hybrid. It also protects your guests from pressure from the pocketed coils (extra host points for you).
The Zoma Hybrid also features the same ventilated AirCloth cover that comes on the original Zoma Mattress. Combined with the perforated gel memory foam and breathable coil core, that makes for one cooling, comfortable mattress.
Best of all, the Zoma Hybrid is on the more affordable end of the hybrid price range. At $999 for a queen, the Zoma comes in well under the average price for a queen hybrid of $1,700. That's excellent for hosts looking to avoid spending too much on a hybrid mattress that won't be used every single night.
Best Guest Room Mattress on Amazon: Zoma Start
Those who want the most affordable mattress for their guest room should check out the Zoma Start. The Zoma Start offers the same performance-enhancing sleep that the original Zoma does at a lower price.
The Start does this by creating a simpler, more streamlined mattress to cut manufacturing costs. On top, you still have the same breathable gel memory foam without the TriangulexTM feature present in the original Zoma.
You also have a thinner ReactivTM layer and a thicker high-density foam support core. This makes for a slightly firmer mattress than the medium-firm Zoma Mattress and Zoma Hybrid. It's perfect for those who know they'll have guests who need some extra support.
How to Pick a Guest Room Mattress
Guest room mattresses need to be versatile to either accommodate people with different tastes and unique needs. Your guestroom might be sleeping a hot sleeper one week and an active sleeper the next. Guest room mattresses also need to fit into often smaller rooms while still accommodating more than one person. The good news is, there are several ways to achieve all these goals.
Size
Most of the time, your guest bedroom might see more than one guest. Sometimes, it will see more than one guest at a time. Depending on your space, just about any mattress size can sleep two people.
Twin
Also called single beds, twin mattresses come in at 38 by 75 inches. Realistically, these mattresses are best for guest rooms that will see a lot of use by children. If you're going to be having adult guests, twin beds are not long enough to accommodate sleepers over six feet tall.
To sleep multiple visitors in your guest room, you'll need a dual twin bed setup.
If you don't have the space for two twin size mattresses side by side, you can get dual twin beds in your guest room using bunk beds. You might also do it with a trundle bed or even twin Murphy beds. No matter your setup, pretty much the only way to sleep multiple guests with twin mattresses is to have more than one.
Twin XL
Like twins, twin XL mattresses are 38 inches wide. Unlike twins, twin XL beds are 80 inches long. This makes them a better choice for guest rooms that will see a lot of use by adults. Since twin XLs are the same width as twins, you'll need a dual bed setup to sleep multiple guests.
You can do bunk beds, trundle beds, or any other dual bed layout. You might also consider a twin XL daybed for a multi-purpose guestroom.
Full
Full beds are also called double beds because they can technically sleep two people. However, it will be a tight fit. Most of the time, we recommend couples avoid the 54 by 75-inch full size mattress because it's not a comfortable fit for most couples, especially couples with a larger or taller partner.
However, if a full size mattress is the biggest size that can fit in your bedroom, it can temporarily accommodate couples in a pinch. It just won't offer them very much wiggle room and probably won't be a great solution for two adults for more than a few days.
Queen
Queen size mattresses are a better solution to accommodate two adult sleepers. At 60 by 80 inches, queen size beds fit in most bedrooms that fulls do, and they offer an additional six inches of width and five inches of length. This provides a bit more wiggle room for two adults, and it offers extra legroom to taller sleepers.
That makes it a more versatile option for the average-sized guest bedroom than a full size bed. Queen beds are the most popular bed size for guestrooms precisely because they're the right balance between big enough to be comfortable and small enough to fit in a non-master bedroom.
King
Those who have some pretty massive guestrooms can spring for the king size mattresses. These 76 by 80-inch mattresses offer plenty of wiggle room to two sleepers. King size beds also fill out larger guest rooms that might be left looking empty by a queen.
Just remember, you need at least two feet of clearance around three sides of the bed to have enough clearance to get around the bedroom. You'll need even more space if you plan to put extra furniture in the room.
California King
California king size mattresses usually only make good guest room beds if you have a massive guest room and you know you'll be having extra-tall visitors. These 72 by 84-inch beds are made to fill out grand master bedrooms and accommodate sleepers well over six feet tall. So if neither of those criteria applies to your guest room, you might be better off with a king or queen mattress.
Firmness
Since more than one person will be using your guest mattress, you'll need one that can comfortably accommodate most sleep positions and most body types.
Sleep Style
Sleep style is the primary determinant of firmness needs. Side sleepers need the softest beds, and stomach sleepers need the firmest. Combo and back sleepers need something in the middle. Since you probably won't know the sleep style of all your guests, it's best to go with a mix of pressure relief and support. Choose a medium or medium-firm mattress.
Body Type
Guests with different body types also need different firmness levels. Sleepers over 230 pounds need firmer beds, while sleepers under 130 pounds need softer ones. Of course, you probably shouldn't play a weight-guessing game with your guests.
If you know the average size of your guests, you can decide on a firmness level to suit them. For instance, if all your guests are shopping at the Big and Tall, you're probably better off with a firmer bed. Otherwise, it's best to meet in the middle again with a medium or medium-firm feel.
Mattress Type
There are certain types of mattresses that are likely better suited to multiple guests than others. If you're having couples over, you'll need to think about motion transfer and coolness. And, of course, you probably don't want to break the bank for a mattress that won't see nightly use.
Innerspring
Innerspring mattresses don't make great guest room beds. They don't isolate motion at all. They don't contour very well. They tend to be too firm for side and combo sleepers.
Even innerspring mattresses with pillow tops still won't last very long. Innerspring support cores are not durable, and that means you'll be replacing your guest mattress every five to eight years.
Memory Foam
Memory foam makes for a great guest room mattress. Memory foam mattresses are affordable and durable. That means you won't break the bank or have to replace your guest room mattress too often.
Memory foam contours to everyone's unique shape, making it well-suited to accommodate many different sleepers. One thing to watch out for is memory foam's heat retention. For a cooler, more breathable bed, consider gel memory foam or foam infused with copper or other thermal conductors to keep your visitors cool all night long.
Natural Latex
Most people don't want to purchase an extremely expensive bed for their guest room. That is a big ding for latex mattresses because they are the most expensive mattress. However, they are also the most durable type of mattress. That means year-for-year, you'll pay less for a latex mattress.
Natural latex is extremely cooling because this breathable material allows for tons of airflow. Latex is also springy for active sleepers while still maintaining its ability to contour and relieve pressure points. All this means latex foam is one of the best quality materials for a guest mattress if you're willing to pay the premium.
Hybrid
Along with memory foam, hybrids make the best guest room mattresses because they're durable, comparatively affordable, and comfortable for just about anyone.
Hybrid mattresses combine a top layer of foam with a support core of pocketed coils. That means they're cooling for hot sleepers, bouncy for active sleepers, and adaptable to accommodate multiple sleep styles and body types.
Hybrid mattresses have a high average cost, but it's much easier to find a good deal on a quality hybrid than it is to find an affordable latex mattress. Hybrids are also durable, so you won't have to replace them all that often.
Frequently Asked Questions
Bottom Line
Getting your guest mattress right is a great way to make your visitors' stay amazing. You need a mattress that can keep hot sleepers cool, bounce back for those who like to toss and turn and adapt to a variety of sleep styles and body types. For this reason, we recommend either a gel memory foam mattress or a hybrid mattress for your guest bedroom.
This article is for informational purposes and should not replace advice from your doctor or other medical professional.
Michelle Zhang
, Wellness Writer
Michelle Zhang is a regular contributor to our Zoma blog and is our go-to sleep researcher. In her time with Zoma, Michelle has researched and published many articles on widespread sleeping habits and troubles. In her time outside of Zoma, Michelle is an occupational therapist and long-distance runner. She believes leading a healthy lifestyle is the key to getting better sleep at night. Michelle's work has been featured on Men's Journal, The Frisky, and The Mighty.
View all posts