Best Mattress for Shoulder Pain
Shoulder pain is one of those issues that can mess up your whole life without having one single cause or solution. If your shoulder pain is severe enough, it can interfere with everything you want to do.
"Sleep and pain have a two-way relationship," notes Dr. Nayantara Santhi. "Poor sleep can intensify the pain and conversely, pain can worsen sleep."
"It is well established that poor sleep affects our ability to function effectively during the day. Sleeping on your side with your knees slightly bent or on your back are the healthiest sleeping positions. This can reduce shoulder and neck pain and help you sleep better."
Sometimes, shoulder pain has a cause rooted in health issues. But sometimes, it's caused by nothing more than sleeping on the wrong mattress. The good news is finding the right mattress doesn't have to hurt more than your shoulders already do. With a few quick tips, you can find the perfect pain-relieving bed for instant comfort.
Best Memory Foam Mattress for Shoulder Pain: Zoma Mattress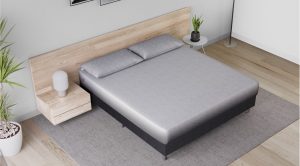 Those who want a cooling and supportive mattress to relieve both their shoulder and back pain can find a good night's sleep in the Zoma Mattress. This mattress hits all the marks to fit most people's personal preferences. It's cooling, responsive, and contouring all at once!
The Zoma Mattress's gel memory foam layer is much more cooling than traditional memory foam. The gel memory foam works with the ultra-breathable cover to help conduct and wick away heat simultaneously. The gel memory foam also boasts a tri-zoned construction to offer the best support to the different areas of the body.
Below the upper layer, the ReactivTM layer helps the memory foam bounce back just as fast as latex. This is a real benefit for active sleepers who like to toss and turn. And the ultra-dense foam support core means the Zoma Mattress will fight signs of aging for a full decade.
The Zoma Mattress comes with the full arrangement of added benefits, including free shipping, a 100-night sleep trial, and a 10-year warranty. It also boasts a CertiPur-US® certificate, meaning it is low in VOCs (Volatile Organic Compounds) and free of heavy metals, formaldehyde, and other toxins.
Best Hybrid Mattress for Shoulder Pain: Zoma Hybrid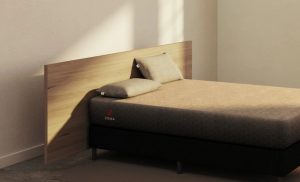 Those who want all the benefits of the Zoma Mattress with even more cooling and bounce should check out the Zoma Hybrid. This hybrid features a similar upper construction to the original Zoma, but it swaps out ultra-dense support foam in favor of a pocketed coil support layer instead.
With the Zoma Hybrid, you still have the cooling gel memory foam and the ventilated cover. These work together with the coils to promote airflow all the way through the mattress. That means the Zoma Hybrid is actually a step up from the Zoma Mattress in terms of breathability.
The Zoma Hybrid is also bouncier than the Zoma Mattress because the pocketed coil support core springs back into place as soon as you move. But you won't have to sacrifice motion isolation because the coils all move independently of one another.
That's part of the reason why the Zoma Hybrid is so adaptable. Because individually wrapped coils can move independently, they can take your shape. Each coil rises and compresses based on the pressure exerted on it. That means this hybrid can adapt through the whole mattress.
This makes the Zoma Hybrid a good choice for side sleepers who need as much contouring as they can get.
Just like with the original Zoma Mattress, the Zoma Hybrid comes with all the bells and whistles. That means you can still expect a 100-night trial period and a decade-long warranty, as well as free and convenient delivery.
Best Soft Mattress for Shoulder Pain: Zoma Boost
Softer mattresses are often desired by people who want to ease shoulder pain at night, as their gentle cushion can hug heavier areas of the body like the shoulders and hips. The surface of the Zoma Boost allows room for the shoulders to gently sink in, without misaligning the sleeper's overall spine and enabling later pain.
Aside from its pressure-relieving cushion, the Zoma Boost is carefully constructed to deliver consistent coolness all night long. The cover is crafted for a soft and lightweight feel, delivering a refreshing chill like a dip into a personal oasis. Sleepers can feel the coolness ready to greet them the second they lie down.
Underneath the cover is quilted hypersoft foam, followed by a layer of graphite-infused memory foam. This second layer pulls away absorbed heat and deepens compression for more pressure-relieving cushion for the shoulders and hips.
In contrast, the third layer of Reactiv™ foam limits sinkage to prevent the body from bowing too deep into the mattress and misaligning the spine. It also ensures you don't get uncomfortably stuck in the mattress as you lie down or try to move around.
To support the shoulders, back, and hips, the Zoma Boost has a sturdy and durable pocketed coil support core that contours to your body and its curves. These coils are also wrapped for motion isolation and have reinforced edge support to make it easy to move out of bed.
As with other Zoma mattresses, the foams inside the Zoma Boost are CertiPUR-US® certified for a safer production process and minimal off-gassing smell after unboxing. The Zoma Boost comes with free delivery, a 100-night sleep trial and a 10-year warranty.
What Causes Shoulder Pain?
Shoulder pain can have many causes, a single cause, or no real definable cause at all. Sometimes your shoulder just hurts because it hurts, though this type of pain is often just temporary from sleeping at an awkward angle or overdoing it at the gym. However, more chronic pain can have one of several causes. Here are a few of the most common ones.
Arthritis
Several types of arthritis can cause shoulder pain. For example, with rheumatoid arthritis (RA), a disordered immune system attacks the joints. This tends to cause pain evenly throughout all the joints, including the shoulders. You may experience knee pain, hip pain, or pain in your fingers and toes.
Osteoarthritis is another type of arthritis that occurs when you lose cartilage between your joints. That means the cushioning that keeps the bones from rubbing against the joint itself is reduced or completely gone. This can cause pain in the shoulder joints and many others. The difference between osteoarthritis pain and RA pain is that some joints may be more affected than others.
Injury
Lots of different shoulder injuries can cause chronic shoulder pain. Rotator cuff tears are a common cause of pain that can last for months or even years. Other symptoms can include limited mobility and weakness in the shoulder muscles. This type of injury often needs surgery to heal properly.
Other injuries that may cause long-term pain include shoulder breaks, dislocations, and breaks of bones surrounding the shoulder joint, like the upper arm or collar bone.
Mattress Issues
One thing many people don't think about when trying to understand the root cause of inexplicable shoulder pain is their mattress. However, sleeping on a bad mattress can cause all sorts of issues with your shoulders.
One of the most common problems is when side sleepers sleep on an overly firm mattress. Pressure from the body's weight combines with pressure from the mattress to cause hip and shoulder joint pain. This is why side sleepers need softer mattresses because soft mattresses can absorb pressure and relieve pain in pressure points like the shoulders.
Another mattress problem that can cause shoulder pain is if back sleepers are sleeping on a too-soft mattress. Mattresses that allow your body to sink too much can push your head too high on the pillow and let your neck fall out of alignment. This can cause shoulder and neck pain alike. And it's why back sleepers need medium-firm mattresses.
Muscle Tension
Muscle tension in the neck and shoulders can be caused by lots of different issues. It might be due to sleeping on the wrong mattress. It could also be caused by intense workouts or physically demanding jobs. Muscle tension may also be due to stress and anxiety. Whatever the cause, tension can lead to severe pain, even if it isn't caused by previous injury or health issues.
Sleep Position
Your sleep position could lead to shoulder pain, especially if you're sleeping on the wrong pillow or the wrong mattress. For instance, side-sleeping can cause shoulder pain if your pillow isn't thick or firm enough. A thin pillow can let your head fall sideways. This can cause pain by overextending one shoulder and scrunching the other.
Picking the Right Mattress for Shoulder Pain
No matter the cause of your shoulder pain, the right mattress can help. However, you should be aware of a few factors that impact your needs while you're shopping for a new bed. These include your sleep position, body type, and sleep temperature.
Best Material for Shoulder Pain
There are lots of different types of mattresses that could help shoulder pain sufferers find relief by providing proper spinal support and excellent pressure relief.
Memory Foam
Memory foam is the best material for those whose shoulder pain is caused by inadequate pressure relief. Memory foam contours better than any other material. It changes its shape to fit yours flawlessly. Memory foam mattresses offer the perfect combination of pressure relief and spinal support to protect your shoulder joints and keep the spine in a straight line—especially important for side sleepers.
However, there are some things you ought to keep in mind about memory foam. Active sleepers might not like memory foam's slow response time. And hot sleepers probably won't appreciate memory foam's tendency to retain heat. While modern memory foams compensate for these issues somewhat, they don't compete with bouncier and cooler options.
Natural Latex
Natural latex foam fixes many of the issues that memory foam has. It's springier than memory foam. So it will bounce back into place as soon as you change your sleeping position. It's also more breathable and conductive than memory foam. So it will keep even the hottest sleepers cool enough.
However, the tradeoff is contouring. Latex wants to retain its shape more than memory foam. So it will not follow the curve of your body quite as well. People who want lots of responsiveness and cooling might not note the difference. But those who want ultimate pressure relief probably will.
Innerspring
Traditional innerspring mattresses are the worst choice for those with shoulder pain. They don't contour very well because their open coils are wired together. They also don't normally have sufficiently thick comfort layers for adequate pressure relief. That means innerspring mattresses can actually cause shoulder pain rather than alleviate it.
If you absolutely must have an innerspring mattress, consider one with a pillow top. A pillow top is an extra layer of padding sewn on top of the comfort layer. This extra padding might be sufficient to help relieve some people's pain and offer a bit of contouring to boot.
Hybrid
A more viable option for innerspring lovers who don't want to lose the bounce of coils is a hybrid mattress. Hybrid sleep technology allows you to have lots of layers of foam along with a much more adaptable pocketed coil layer. They offer the best of both innerspring mattresses and all-foam ones.
The best hybrid mattresses are cooling, responsive, contouring, and supportive. However, the main issues with hybrid models are cost and durability.
Hybrid mattresses are very expensive upfront, so they're not a great choice for those interested in a budget mattress. They also won't outlast all-foam mattresses because their coils lose tension and break down.
Hybrids break down slower than innerspring mattresses, as we cover in our how long a mattress lasts guide. However, if you want extreme durability, you'll need a high-density foam base layer.
Best Firmness Level for Shoulder Pain
Your ideal firmness level depends a little bit on your sleep position and a lot on your body type. Your firmness needs may also have to be adjusted based on what's causing your shoulder pain. However, most of the time, you can stick to the firmness that fits your body type and sleep style and adjust the material to provide optimal contouring and pressure relief.
The firmness scale is how you'll determine the firmness level of your mattress. It runs from 1 to 10, with 10 being the firmest. However, you'll rarely find any mattress softer than a 3 or firmer than an 8. There's just no market for ultra-soft or ultra-firm beds.
Sleep Position
Your sleep position is the number-one factor that decides your firmness needs because it determines how much pressure relief and support you need. Depending on how you sleep, you could need a bed that falls anywhere from a 3 to an 8.
Side sleepers need the softest beds to protect their shoulders and hips from pressure exerted by the support core. Mattresses for side sleeping should offer a soft to medium feel.
Combo sleepers like to adopt different positions during the night, so they need a mattress that is versatile enough to accommodate multiple sleep positions. Medium mattresses for combination sleeping are typically the best beds for the job.
Back sleepers need a balance of firmness and contouring to keep their bodies lifted and their spines aligned. Thus, mattresses for back sleeping typically suit them best when they have a medium-firm feel.
Finally, stomach sleepers need lots of lift to prevent their pelvises from sinking into the bed. They need firm or even extra-firm beds.
Body Type
If your body weight falls between 130 and 230 pounds, you generally don't have to worry about it impacting your firmness needs. However, if you fall outside this range, you may need to make adjustments to your firmness level.
Petite sleepers are under 130 pounds. Lightweight sleepers can have a hard time getting enough compression for adequate pressure relief, so they may need to go down a firmness level from the one that matches their sleep style.
On the flip side, those over 230 pounds are considered plus-size. Heavier people may experience too much sinkage on a mattress that corresponds directly with their sleep style. They may need to go up a firmness level when seeking a mattress for heavy sleeping to get sufficient lift to stay on top of the sleep surface instead of sinking into it.
Frequently Asked Questions
Bottom Line
There are many issues that can lead to shoulder pain. However, no matter the root cause of your shoulder pain, getting the right mattress is an important step to relieving it.
Remember, the best mattresses offer a mix of pressure relief and healthy spinal alignment to fit your sleep style and body type.
This article is for informational purposes and should not replace advice from your doctor or other medical professional.
Sarah Anderson
, Certified Sleep Science Coach
Sarah Anderson is a sleep, health, and wellness writer and product reviewer. She has written articles on changing and improving your sleep schedule, choosing the right mattress for chronic pain conditions, and finding the best pillow for you. Sarah Anderson has her Bachelor of Arts degree from Arizona State University in Journalism and Mass Communications. Prior to working for Zoma, she wrote for a variety of news publications. Sarah's work has been featured on Bustle, PureWow, and other publications.
View all posts