Best Mattress for the Money
Getting the best bang for your buck isn't just about the initial price tag when it comes to mattresses. You'll need to keep in mind many other considerations as you go mattress shopping.
You'll need to think about the product's quality since your health depends on your mattress doing its job. You'll also need to think about durability and what that means for your spending down the road. Remember, the best deal isn't always the cheapest thing.
Best Hybrid Mattress for the Money: Zoma Hybrid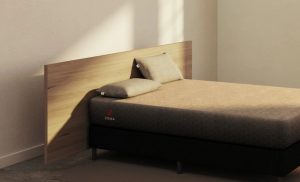 One of the worst drawbacks of hybrid mattresses is it's not easy to find a high-quality hybrid model that won't break the bank. It's expensive to arrange all those pocketed coils and layer all those foams on top. The good news is Zoma pulls it off without charging an arm and a leg.
The Zoma Hybrid has a lot to brag about besides its reasonable price tag. For one thing, hot sleepers will appreciate its ultra-breathable AirCloth cover. This cover works with the gel memory foam comfort layer to wick away body heat and moisture to keep you cool all night.
The pocketed coil support core makes the Zoma hybrid possibly the coolest mattress in the Zoma lineup. The Coils allow for optimal airflow throughout the whole mattress, not just the comfort layers.
An added bonus of the Zoma Hybrid is its responsiveness. The bouncy coils work together with the ReactivTM transition layer to help your mattress spring back into shape as soon as you change your sleeping position. This makes the Zoma Hybrid one of the best beds to offer active sleepers a good night's sleep.
Each of the Zoma Hybrid's coils moves independently of the others. This makes this model a highly adaptable mattress for people who need lots of contouring to relieve hips and shoulders. The Zoma Hybrid can adapt to your shape all the way through.
Best Memory Foam Mattress for the Money: Zoma Mattress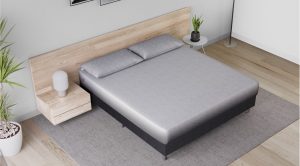 The Zoma Mattress is the original Zoma offering. It's designed to offer athletes restorative sleep that aids in recovery. But that doesn't mean this mattress is just for athletes. The Zoma Mattress is a good choice for everyone! It takes a few of the best features of the Zoma Hybrid and stacks them on top of a high-density foam support layer for an even more durable mattress.
This medium mattress sports the same gel memory foam comfort layer and ReactivTM transition layer for a bouncy, cool feel. However, it arranges the foam into three different zones to offer the right support and pressure relief to the right areas of the body. This can help alleviate lower back pain and offer pressure relief to pressure points.
The high-density support core in the original model is not as adaptive as the coils in the hybrid. While this might make the Zoma an overly firm mattress for side sleepers, it means it offers better support to stomach sleepers and back sleepers.
Another great feature of the Zoma Mattress (and all the mattresses in Zoma's lineup) is that all the memory foam in it is CertiPUR-US® certified. This means its low in Volatile Organic Compounds (VOCs) and free of toxic ingredients like heavy metals and chemical flame retardants.
Best Cooling Mattress for the Money: Zoma Boost
If you want to go beyond the comfort of the original Zoma Hybrid and Zoma Mattress and invest in a good night's sleep, try the Zoma Boost. It's a luxurious pillow top mattress that is quick to hug and relax you as you lay down to sleep. Standing tall at 15 inches, the Zoma Boost comes with handles on the sides for easier lifting.
Unlike less advanced mattresses, the Zoma Boost features an ultra-cool fabric cover with a soft and breathable texture. While other mattress covers can feel heavy and thick to the touch, our cover is light and pleasantly chilled, like a chilled oasis or a personal cloud.
To further establish the bed's cloud-like comfort, the quilted top layer features hypersoft foam, 2 inches thick. It hugs your body, releasing pressure that can build up into aches and pains. Underneath the first foam layer is graphite-infused memory foam that deepens the compression of the Zoma Boost and ensures it stays cool throughout the night.
The Reactiv™ transition layer counters the conformability of the foam layers with its bouncy structure. It limits unwanted sinkage and makes it easy to move across the mattress. As is standard for Zoma mattresses, all foam layers are certified by CertiPUR-US®.
The Zoma Boost's support core consists of motion-isolating pocketed coils that contour to your body's shape. These coils react immediately as you move across the bed without transferring the motion. The edge support along the sides also makes it easy to move out of bed in the morning.
Just like the other Zoma mattresses, the Zoma Boost includes free shipping, a 100-night sleep trial, and a 10-year warranty.
Best Mattress on Amazon for the Money: Zoma Start
The Zoma Start is the newest offering from Zoma, and it's exclusively on Amazon for the moment. If you like the Original Zoma but want an even lower price point, the Start might be a good mattress for you.
The Zoma start features the same high-quality materials, the same breathable cover, and the same risk-free trial period as all the other Zoma offerings. Coupled with its low price, this means the Zoma Start is the best value mattress in the Zoma lineup.
With a few minor design tweaks, Zoma is able to offer the same quality at a lower price. You'll still find the AirCloth mattress cover and the gel memory foam comfort layer. However, the foam does not feature the three-zoned TriangulexTM structure of the original Zoma. The ReactivTM layer is also thinner than in the Original or Hybrid offerings.
However, the reality is these changes are so minor most sleepers won't notice them. What they will notice is the Start's amazing price tag. The excellent value is the main pull of this mattress: you get the same Zoma quality at a steep discount.
Since the Zoma Start does feature thinner comfort and support layers, it is a slightly firmer mattress than the other offerings in the lineup. This makes it an excellent choice for stomach sleepers and heavier sleepers regardless of its price tag.
Considerations for Buying a Mattress
When you're thinking about how much a mattress will cost, you'll need to take more into consideration than just its sticker price. Naturally, a mattress' sticker price will have an impact on its value, but it's just one of several considerations you'll need to take into account.
Durability
A mattress' durability, or how long the mattress lasts, decides how much you'll pay for each year of use. The longer a mattress lasts, the less you pay for it per year. So even if you pay a lot for a mattress upfront, you could wind up recouping those costs and saving money in the long run.
For instance, if you pay $2,000 for a mattress that lasts 20 years, you've paid $100 per year for that mattress. But if you pay $1,500 for a mattress that lasts 10 years, it costs you $150 per year of use.
In terms of mattresses with good longevity, natural materials are more durable than synthetic ones. That means latex is the thing to look for if you don't want to replace your mattress often. The tradeoff is that latex foam is pricier than the synthetic foam found inside memory foam mattresses.
While it's relatively easy to find a high-quality memory foam mattress under $1000, shoppers may struggle to find a latex mattress that's just as inexpensive, unless they choose to go for one of the smaller mattress sizes.
There's also comfort to consider, as some sleepers simply prefer memory foam to latex foam when it comes to feel. Latex foam can be more buoyant while memory foam tends to hug the body more closely. Which is better when it comes to sleeping well is typically just a matter of personal preference.
Another thing to watch out for if you want durability is a coil support layer. Coils break down faster than support foam. So if you want a mattress built for longevity, you'll need to steer clear of coils, especially open coils like those found in traditional innerspring beds.
Initial Price
Of course, the sticker price of your mattress does have a huge impact on its overall cost after years of use. If two mattresses last the same amount of time, the one with the lowest initial price will be the one that costs less over time as well.
The more durable mattresses don't always win out over the lower-cost ones in terms of value. A mattress that has an excessively high sticker price will likely never last long enough to make up for it in terms of the annual cost.
That's why if you want the best deal, you want a balance of durability and initial cost. Look for a durable mattress that you won't have to replace too often, but that also sports a sticker price that isn't too outrageous.
Shipping and Delivery
One of the highest costs people often forget about is shipping. Mattresses are bulky and heavy, so they're not cheap to ship. Many companies nowadays offer free shipping because they've worked out a deal for bulk pricing with the nation's largest parcel services.
Of course, free delivery isn't really free. It's baked into the price of the mattress. However, you want to make sure you're getting your shipping costs covered because otherwise, you'll be forking over the money for delivery yourself. If you don't see the words "free shipping" or "free delivery," you could be on the hook for delivery fees that can rise into the triple digits.
Bed Base
If you buy a heavy mattress, you might be paying more to replace your box springs. Many new mattress models (like memory foam. latex and hybrid mattresses) are way too heavy for traditional box spring sets. That means you'll have to buy a mattress foundation or platform bed.
These can be much more expensive than plain old box springs. On the flip side, foundations and platform beds are much sturdier than box springs and will last much longer.
Platform beds can also save you money because they don't require an additional bed base as traditional bed frames do. You can just lay your mattress directly on top of a platform bed as you would with a box spring. See our box spring vs platform bed guide for an in-depth comparison of their pros and cons.
How to Know You're Buying a Quality Mattress
Don't fall into the trap of focusing on getting a good deal and forgetting about quality and comfort. A mattress that you paid an awesome price for won't do you much good if it doesn't provide you with proper spinal support and pressure relief.
To do its job as the most comfortable mattress for you, it has to be made of quality materials and constructed using the right techniques. But how can you, as a consumer, tell whether these criteria were met? There are several clues that can help give you some ideas.
Transparency
One of the biggest ways to tell a quality mattress from a cheap piece of junk is how transparent its seller is. Ask yourself a few questions as you're looking at a potential new mattress:
Does this manufacturer illustrate and discuss the different layers of their mattress?
Do they talk about where they source the materials that go into this mattress?
Do they have a list of certifications that attest to material purity and safety?
Do their mattress reviews indicate they offer reliable and responsive customer service?
If a manufacturer is proud of the product they've made, they'll talk about it in detail. They'll also have lots of satisfied customers talking about it online (unless it's a brand new product). Mattress companies that don't say a whole lot about what they're selling might have something to hide.
Warranty
Mattress companies that know they've made a quality product will offer a warranty to back it up. Generally speaking, you should look for a warranty that lasts no fewer than 10 years. You should also read the fine print to ensure the warranty doesn't have a bunch of loopholes that allow the manufacturer to deny coverage they should be providing.
You should also look specifically at the warranty's sagging coverage, which varies from brand to brand. Some mattress brands won't offer a replacement until the sagging is close to 2 inches, while others offer protection on sagging once it exceeds an inch. Yes, it's best to choose a mattress that won't sag, but it's also good to know what options you have if you do end up with a defective mattress.
Sleep Trial
The sleep trial is another good indicator of how a mattress manufacturer feels about their product. Mattress companies that know you'll like what they offer are willing to back that assumption with a few months of risk-free sleep. During the trial period, you can sleep on the mattress in your own home and return it for a full refund for any reason.
You should look for a minimum of a 100-night sleep trial. You should also make sure you spot the words "risk-free" or "money-back guarantee" or something similar. That way, you know you won't have to fight for your money back if you do decide to return your mattress.
Frequently Asked Questions
Bottom Line
Getting the best value out of your mattress isn't just about finding the cheapest mattress out there. It's about getting the best quality at the most reasonable price. Measures of quality include durability, comfort, and the use of safe and sturdy materials. The best mattresses like this at a price most can afford are the gold standard of value.
This article is for informational purposes and should not replace advice from your doctor or other medical professional.
James Nguyen
, Sleep Expert
James Nguyen is Zoma's resident sleep expert and staff writer. James enjoys learning about the newest technologies in the mattress industry and doing deep dives into the science of sleep. He's tried nearly every gadget and gizmo in an effort to determine which sleep-promoting accessories can truly enhance your shut-eye. Outside of work, James takes his dedication to get healthy sleep seriously, and has even declared himself an "expert napper." James' research has been featured on Thrive Global and other media.
View all posts