Gel Memory Foam vs. Latex Mattress: What's the Difference?
Latex and gel memory foam mattresses are some of the most popular beds available. Since they offer a cooler surface than traditional foam beds, more sleepers turn to them to achieve a good night's rest.
Here we look at the similarities and differences of latex and gel memory foam beds. We'll also look at the best options for specific sleepers.
Gel Memory Foam Mattress
Cooling gel memory foam is made with polyurethane foam and added chemicals to increase its density. The main difference between gel and traditional foam is that gel memory foam mattress is infused with cooling gels to prevent heat retention. These mattresses were developed to give sleepers a cooler sleeper surface since traditional foam beds are known to hold onto body heat.
The biggest advantage of a gel memory foam mattress is it wicks away moisture as you sleep. It also works to increase the airflow throughout your mattress. Just like traditional memory foam, the gel-infused foam layers have contouring abilities. This is especially good for sleepers who are looking for a mattress with excellent pressure point relief.
Cost
Gel memory foam tends to be more expensive than traditional foam beds but is not too pricey for the average shopper. Since memory foam beds are one of the most popular mattresses on the market, you can find them at an affordable price with no issues.
Memory foam beds with gel foam will likely cost anywhere between $400 to $2000, depending on its materials and thickness. However, this may still be a better price than other latex mattresses.
Temperature Control
Though gel memory foam is designed to keep sleepers cooler, it can still be too hot for some individuals. Memory foam does not have as many air pockets as other mattress types. Plus, memory foam absorbs body heat. So, a latex mattress may be a better cooling mattress for hot sleepers in this case.
Responsiveness
Memory foam mattresses conform and hug your body to provide great pressure point relief, but they are not known for being responsive. Some mattresses may be designed to provide your bet with some bounce, but they will not compare to latex foam.
A common complaint among sleepers is that memory foam makes them feel like they are sinking into their mattresses, resulting from the lack of bounce. Memory foam beds usually have a slower response time than other mattress types.
Durability
Gel memory foam mattresses usually last longer than innerspring mattresses. A quality memory foam bed may last up to 10 years. Beds with gel memory foam may even last longer depending on how well an individual cares for their mattress.
Benefits and Drawbacks of Gel Memory Foam
Gel memory foam may be a better option than traditional memory foam since it enables sleepers to sleep cooler for more restorative rest. These beds mold to your curves, so no matter how you position yourself, you will feel supported in all the sensitive areas of your body. Gel memory foam may also be more durable and resilient than traditional memory foam mattresses.
The major drawback of purchasing a gel memory foam bed is that the cooling effect may not last, particularly if there's only a limited amount of gel in the bed. However, when paired with other cooling features, gel memory foam can perform more effectively.
Best Gel Memory Foam Mattress: Zoma Mattress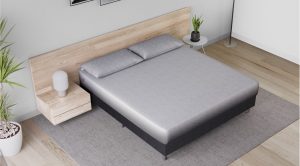 The Zoma Mattress is our flagship mattress and best-seller. We built this bed to help all kinds of people sleep better while stimulating muscle recovery. This way, you wake up feeling refreshed every morning.
The Zoma Mattress is 12 inches thick and has a medium feel. This firmness is a great choice for side sleepers, combo sleepers, and back sleepers. Thanks to its cooling properties and elevated design, we also recommend this bed to hot sleepers and people with chronic pain issues.
We feature our breathable AirCloth cover on the Zoma Mattress. It wicks away heat and moisture, ensuring you don't overheat and that your bed doesn't develop odors, mold, or mildew.
Inside the Zoma Mattress is gel memory foam designed to cushion painful body parts without causing you to overheat. Next is a layer of Reactiv™ transition foam which distributes your bodyweight and lifts up your body while you sleep. The base of the Zoma Mattress is made from our Support+ foam. It, unsurprisingly, supports the spine but also helps your mattress last for years to come.
We make Zoma Mattresses in the USA. They're CertiPUR-US® certified as well, which means the beds are free of heavy metals, formaldehyde, phthalates, and are low in VOCs.
The Zoma Mattress ships for free and includes a 100-night trial and a 10-year warranty.
Best Gel Memory Foam Hybrid Mattress: Zoma Hybrid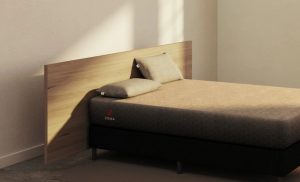 For hot sleepers who are concerned about coolness and want to feel pleasantly chilled throughout the night, we would recommend the Zoma Hybrid. The pocketed coil core inside the Zoma Hybrid supports the top foam layers, improves airflow through the base of the mattress, and helps to establish a responsive surface.
The structure of the Zoma Hybrid is similar to its memory foam counterpart. The top layer is cooling gel memory foam, able to hug a sleeper's body and relieve pressure in sensitive areas. Next is a Reactiv™, engineered to increase responsiveness and offset sinkage.
The base layer is pocketed coils wrapped to isolate motion, providing greater couples' comfort. The coils also feature edge support, a helpful feature for anyone who struggles to move out of bed in the morning. A firm foam base supports the coils for greater structural integrity.
As with the Zoma Mattress, the Zoma Hybrid is backed by a 100-night sleep trial and a 10-year warranty.
Latex Foam Mattresses
Latex mattresses are one of the most durable and eco-friendly mattresses. Many people refer to latex as a buoyant material, which differs from traditional foam beds. When sleepers lie on a latex bed, the material snaps back into place when they climb out of bed.
Natural latex mattresses go through a sustainable manufacturing process, and they are made from rubber tree sap. There are two types of natural latex: Dunlop latex and Talalay latex. However, not all latex beds are made with raw materials.
There are a couple of types of latex that are used for mattresses. Synthetic latex mattresses are made from chemicals that replicate the feel of latex. This type of latex is less durable than natural latex. These beds are usually great for individuals with latex allergies who want a responsive bed.
Blended latex beds are another choice for sleepers. This latex is more durable than synthetic latex, but it still contains more chemicals than all-natural latex.
Cost
Latex mattresses have a reputation for being expensive mattresses. It's about $700 for a twin mattress, and you'll probably spend more than $2,000 for larger mattresses. Although latex beds may be out of the average sleeper's price range, they have more benefits than traditional mattresses.
Plus, they last longer. You can get up to 20 years of usage with a latex bed so that it may be a better investment in the long run.
Temperature Control
Latex mattresses do not constrict your body or block airflow while you sleep. Therefore, natural latex mattresses allow you to sleep cooler than other mattress types. Though they are a foam mattress type, they pull body heat away rather than absorbing it. These mattresses also do not require any additional cooling features since they are naturally breathable.
Responsiveness
Responsiveness refers to the degree to which a mattress responds to motion or pressure. Ultimately, the faster a mattress adjusts to your movements, the more responsive it is. Latex mattresses are more responsive than the majority of foam mattresses on the market.
Durability
On average, a standard quality foam mattress will last for at least 10 years. By purchasing a latex mattress, you can double the lifespan of your bed. Natural latex mattresses last up to 20 years, so you won't have to worry about replacement any time soon.
Benefits and Drawback of Latex Mattress
There are a couple of reasons sleepers are drawn to latex mattresses. Most sleepers gravitate to these beds because they are eco-friendly. Natural latex is made from rubber, which is harvested from rubber trees through tapping.
Since natural latex is a plant-based material, it will break down more quickly than foam or spring material. The hypoallergenic material is met with a breathable surface. Latex is cooler than traditional foams so that sleepers will receive good airflow throughout the night. Not to mention, latex foam conforms to your shape, providing you with body-hugging comfort.
While there are many benefits of purchasing a latex bed, some disadvantages keep people from buying these mattresses. Latex beds aren't in the average person's budget, so many people turn a blind eye to these mattresses. More affordable latex beds contain synthetic materials, which can harm the environment because they are made with unsustainable materials.
Latex Foam vs. Gel Memory Foam: Which is Better?
Best Affordable Option: Gel Memory Foam
Latex mattresses can cost upward of $3,000. Though gel memory is more expensive than traditional memory, it is still less expensive than latex. A gel memory foam mattress can cost anywhere between $400 to $2000 and last for more than a decade.
Best Airflow: Latex Mattress
All-foam mattresses retain heat, but traditional memory foam is notorious for creating a hot surface for sleepers. Gel memory foam does have a cooling infusion, but its cooling effect may not last long. Latex tends to be a lot cooler than memory foam beds because it does not constrict your body or block airflow while you sleep.
Best for Pressure Relief: Latex and Gel Memory Foam
Latex and memory foam beds offer sleepers with excellent pressure point relief. These are known for their contouring abilities that provide great support for your hips, spine, and pressure points. Both mattresses also promote proper spinal alignment. So either choice we'll keep you comfortable.
Best Durability: Latex Mattress
Latex beds last up to 20 years and have better edge support than most mattress types. Not to mention, latex is considered to be one of the most durable mattress materials. High-quality memory foam may last up to 12 years, but it may be prone to sagging.
Best for Responsiveness: Latex Foam
Memory foam does not add much bounce to your bed. In many cases, it can make some individuals feel like they are stuck in their mattresses. Latex provides your bed with more bouncy and has a faster response time than memory foam.
However, when it comes to responsive beds, sleepers may be best served by a springy hybrid mattress instead of an all-foam bed. Our hybrid vs latex mattress guide examines these two materials' buoyancy in-depth, along with their other qualities.
Frequently Asked Questions
Conclusion
There are several pros and cons of choosing any foam mattress type. For example, latex beds are usually too expensive for most sleepers so a memory foam bed may be a more affordable choice. However, natural latex foam can also be more durable, providing greater value.
The materials also feel different, so for some sleepers, it will come down to comfort. Ultimately, you should rely on your personal sleep preferences to decide what the best mattress for your needs is.
This article is for informational purposes and should not replace advice from your doctor or other medical professional.
Michelle Zhang
, Wellness Writer
Michelle Zhang is a regular contributor to our Zoma blog and is our go-to sleep researcher. In her time with Zoma, Michelle has researched and published many articles on widespread sleeping habits and troubles. In her time outside of Zoma, Michelle is an occupational therapist and long-distance runner. She believes leading a healthy lifestyle is the key to getting better sleep at night. Michelle's work has been featured on Men's Journal, The Frisky, and The Mighty.
View all posts