Hybrid vs. Latex Mattress: What's The Difference?
Hybrid and latex mattresses are newer mattress types on the market that are becoming increasingly popular. Hybrids are a nice combination of traditional spring beds and memory foam mattresses. On the other hand, latex beds are a bouncy alternative to conventional foam mattresses and offer a sleeper cooler surface.
In the next article, we'll look at the differences between hybrid and latex mattresses.
Hybrid Mattress
Hybrid mattresses feature innovative technology that combines the softness of foam layers with an innerspring mattress. Authentic hybrid mattresses should have a comfort layer at least 2 to 3 inches thick. The comfort layers may be made with memory foam, but you may see others with gel and latex.
The top layer of a hybrid mattress is where sleepers experience the most cushioning. Underneath the comfort layer lies the transitional layer, though some budget hybrid models may leave this layer out. The transition layer is often made of firm polyurethane foam to reduce pressure. This layer is also more responsive than other mattress types and adds more bounce to your bed.
The support core of a hybrid bed is made up of a pocketed coil system. Pocketed coils differ from traditional spring beds because they contain individual springs sewn into their pocket of fabric. This design helps reduce the sound of your beds and also restricts motion transfer. Its last layer is a sturdy base that provides your bed with structural support.
Hybrid mattresses are a great choice for side sleepers, combination sleepers, and heavier individuals. The best hybrid mattresses provide a happy medium for sleepers since they combine the contouring abilities of a foam mattress with the sturdy structure of a spring bed.
Hybrids come in a variety of different firmness levels, and so no matter what position you sleep in, you should be able to maintain the proper spinal alignment. We particularly recommend hybrid mattresses for side sleepers interested in bouncy mattresses because traditional innerspring beds can feel too firm.
Cost
Hybrid beds are more budget-friendly than latex beds. You can find a queen size hybrid mattress for about $1,200, but more high-quality models may cost around the same price as a latex mattress.
Temperature Control
Spring beds provide sleepers with a cooler sleeping experience due to their open structure support core. Depending on the material it contains, some hybrid mattresses may even provide a cooler surface than latex.
Hybrids made with latex foam or gel memory foam are often recommended as cooling mattresses for hot sleepers. These beds combine open-cell structure and cooling foams, which your sleeping surface nice and cool.
Responsiveness
Hybrids have springs in their support cores, and they're pretty responsive. You'll have a nice bounce to your bed, which easier to climb out of bed. This is especially beneficial for sleepers with disabilities or limited mobility.
Pocketed coils are not as bouncy as open coils, but they are much better than open coils at controlling motion transfer. Because of their responsiveness, hybrids are a popular mattress for combination sleepers.
It's worth mentioning, hybrid beds offer more bounce than latex mattresses, so this is something to consider while you're choosing your bed.
Durability
Spring beds have a reputation for wearing down easily because their coils lose tension over time. While pocket coils are more durable than open coils, they're not as durable as solid latex foam. You can expect the average hybrid mattress to last up around 7 years, potentially more if it's high quality, but still significantly less than the decade or two that an all-latex mattress can last.
Benefits
If a latex bed is out of your budget or doesn't seem like the right fit for you, you should consider choosing a hybrid bed. Here, we look at a few benefits of hybrid beds:
Provide excellent edge support
More responsive than latex
Cooling abilities
Reduced motion transfer
Noise-reducing coils
Offer good pressure relief
Drawbacks
Spring beds may only last seven years
Coil-based mattresses are prone to sinking and sagging
Price may be similar to latex beds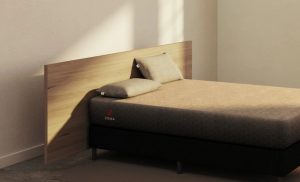 The Zoma Hybrid is a stand-out hybrid bed for its cooling gel foam, springy transition foam, and individually pocketed coils. Built for athletes but great for anyone, the Zoma Hybrid improves your sleep quality, soothes sore muscles, and boosts your physical performance. With its medium-soft feel, the Zoma Hybrid is great for side sleepers and people with joint pain.
Under our proprietary AirCloth cover is a gel memory foam comfort layer. By infusing gel into this foam comfort layer, the bed is less prone to heat and moisture retention. The foam does a great job of cushioning achy muscles without causing you to sink or feel unsupported at night.
Sinking too deep into a bed can throw your spine out of alignment and lead to pain, which is why we add Reactiv™ foam to our beds. This springy material is designed to prevent sinkage and helps align your spine.
The star of the Zoma Hybrid is its pocketed coil layer. Each spring is wrapped in fabric to reduce motion transfer and noise while enhancing the spinal support and air circulation. We use extra-firm coils on the sides of the Zoma Hybrid to ensure there is reliable edge support. Beneath the coil layer is a thin, yet durable foam which helps your bed's longevity.
We provide free shipping, free returns, a 100-night trial, and a 10-year warranty with every purchase of the Zoma Hybrid.
Latex Mattresses
Natural latex is one of the best mattress materials on the market and is made without chemicals. This foam is manufactured from the sap of rubber trees and is 100% natural. The sap from the trees is whipped into foam, and then it is processed into one of the two latex types: Talalay latex or Dunlop latex.
The Talalay process produces soft and fluffy latex, while the Dunlop latex has a relatively firm feel. While you're out shopping, you may also notice that Dunlop material is less expensive than Talalay latex because the manufacturing process is less extensive. However, it's important to note that this price difference is fairly minor. So if you are having trouble deciding between the two, price shouldn't be much of a deal-breaker.
Dunlop is more durable than Talalay latex because of its high density. However, both types of latex last longer than other mattress materials.
When purchasing items with natural latex, it is important to check for certifications such as GOLS ( Global Organic Latex Standard) and GOTS (Global Organic Textile Standard):
GOTS certifies that the raw materials used in your mattress are organically sourced.
Products with a GOLS certification must contain more than 95 percent certified organic latex material.
Another option you can choose from is synthetic latex, which usually comes at a more affordable price point. Mattresses made with synthetic latex are not as durable, so natural latex may be a better option.
Latex mattresses provide sleepers with excellent pressure point relief. If you have aches in your hips or shoulder, choosing a latex bed may help relieve your pain. These beds also contour to the curvature of your spine and promote better lumbar support than other mattresses.
Cost
The initial cost of latex mattresses is quite daunting, but many sleepers consider latex mattresses to be a great long-term investment. You can expect to pay about $2,000 for a queen mattress. But the great thing about latex mattresses is that they last up to 20 years.
Putting down a lot of money for a mattress may seem a little unsettling at first, but latex is a long-lasting material, so it may be a while before you need a new mattress.
Temperature Control
Latex has natural breathability. When you lie on this material, it pulls body heat away from you. Purchasing a latex mattress is a great solution if you're looking for a bed with good temperature control since it doesn't require many additional features to keep you cool.
Responsiveness
Another unique feature of latex foam is its responsiveness, unlike any foam mattress on the market. Like most foam mattresses, it contours to the curves of your body, but it also retains its shape. Moreover, it instantly springs back into place when you change sleeping positions.
Durability
As we mentioned above, latex is one of the most durable mattress materials. You may end up keeping a latex bed for 20 years before it's time to replace the mattress. You'll want to note that this is only applicable to mattresses manufactured with natural latex.
Some latex mattresses are made with Styrene-Butadiene Rubber (SBR) which is synthetic latex. This type of latex is less durable and supportive than natural latex and may not last as long.
Benefits
Latex is praised for its eco-friendliness and durability. Here are a few more reasons you should consider purchasing a latex bed:
Naturally resistant against mold, mildew, and dust mites
Breathable
Responsive
Natural latex is eco-friendly and organic
Long-life span is longer than most foam beds
Made with durable material
Resistant to allergens
Drawbacks
Though latex beds can be a great choice for some sleepers, there are a few drawbacks that may keep you from purchasing this bed, including:
Expensive price point
Synthetic latex may not last as long as natural latex
Synthetic latex isn't eco-friendly
Latex Hybrids
If you're still having trouble deciding between hybrid and latex mattresses, purchasing a latex hybrid mattress may be the solution. Latex hybrids are among the best cooling mattresses because they combine the cooling technologies of both mattresses.
These beds will more than likely have one to three layers of latex foam with different densities on top of a pocketed coils system. They may also help eliminate motion transfer across your mattress, making sleeping disruptions limited.
Overall, latex hybrid mattresses provide you with more responsiveness and breathability than any other mattress type.
Frequently Asked Questions
Conclusion
Hybrid and latex mattresses tend to be more expensive than more traditional beds, but they can be a great investment. Both types of mattresses provide excellent support and pressure point relief for sleepers with joint pain or pre-existing conditions.
This article is for informational purposes and should not replace advice from your doctor or other medical professional.
Andrew Russell
, Wellness Writer
Andrew Russell is a part-time writer and full-time sleep enthusiast. At Zoma, Andrew lends his sleep expertise and writes many of our "better sleep" guides. Outside of Zoma, Andrew puts his advice to the test, always trying new ways to get deeper, more restorative sleep. We appreciate Andrew because he doesn't give advice that he doesn't follow himself, so you can feel confident his solutions for better sleep really do the trick. Andrew's work has been featured on Ladders, Bright Side, and several other publications.
View all posts