Single vs. Twin Bed Size: What's the Difference?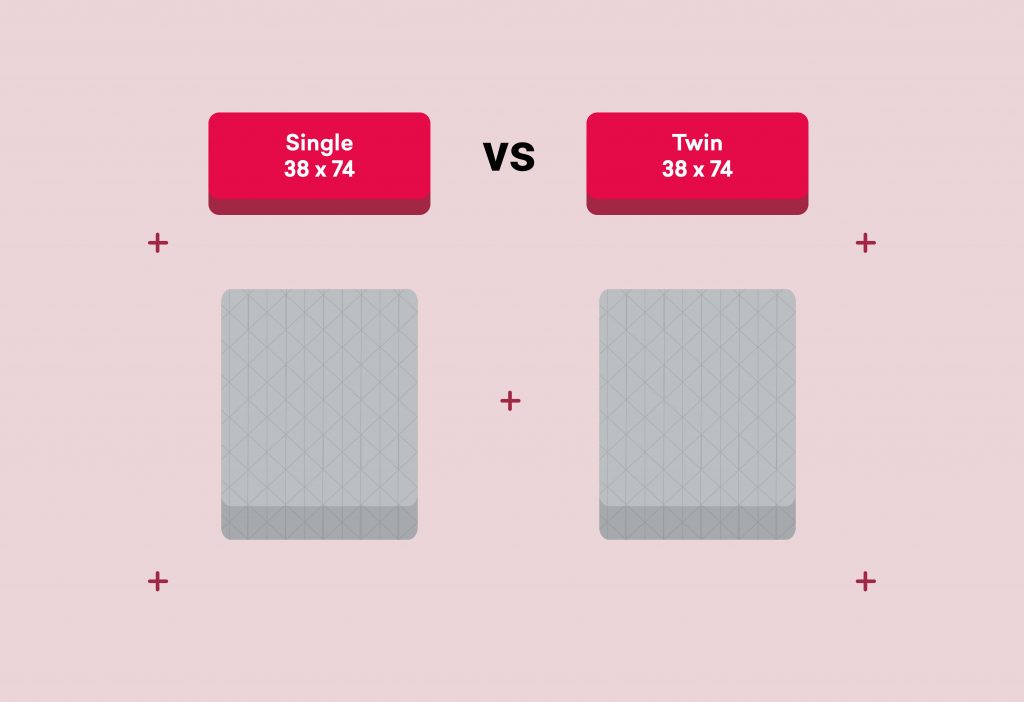 Single and twin mattresses are technically the same size. Each measures 38 to 39 inches wide and 74 to 75 inches wide, with a surface area between 2812 to 2925 square inches.
The difference between the two is that a single bed is meant to be one mattress while a twin mattress is meant to be part of a pair, such as two twin mattresses for a bunk bed or two twin beds placed side by side in a children's room.
However, this nuance has been lost over the years. Many mattress companies sell twin size beds on their own, and you see the term "twin" used more often than you see "single."
Common Variations on a Twin Mattress
Twin mattresses are popular enough that a few different size variations have popped up, offering more space for taller people or smaller dimensions to take up less room space.
Small Single
As the name suggests, a small single mattress is narrower than a traditional twin size mattress. A small single measures 30 inches wide and 75 inches long. It's a good choice if space is truly limited, although it's not nearly enough room to spread out and move for many solo sleepers.
Some people may also choose a small single instead of a toddler bed for their child. Toddler beds are usually 27 inches by 52 inches, and the frame is often low to the ground with railings to keep a child from rolling out of bed and hurting themselves.
A small single isn't considered one of the standard mattress sizes, so if you're interested in one, you may have to approach a custom mattress maker.
Twin XL
A twin XL size mattress is longer than a standard twin, measuring 38 inches by 80 inches. The extra length does a better job of accommodating sleepers over 6 feet tall than a standard twin, keeping a tall sleeper's feet from dangling over the edge. Because they can suit most adult sleepers, many dorm rooms contain a twin XL bed.
We should note that most companies don't sell regular twin size models for those interested in an adjustable bed. So if you want a compact adjustable frame, your best option is to look for a twin XL size base.
Interested in comparing twin and twin XL mattresses to determine which one is right for you? Check out our twin vs. twin XL mattress guide.
Who Should Sleep on a Twin?
Because of its compact size, a twin mattress can fit into almost any bedroom. They're a good choice for solo sleepers who want to make the most of their budget and room space. You can use a twin mattress in a bedroom that's as small as 7 feet by 10 feet, or roughly 70 square feet. Many twin mattresses cost between $300 to $600, so they're a good choice if you're looking for a budget mattress.
People can usually squeeze a twin mattress or two into a children's bedroom, particularly if they use a bunk bed frame. Many children sleep on a twin mattress after graduating from their crib or toddler bed.
A twin mattress is also a good choice for a small guest room, though some shoppers may prefer to spring for a twin XL to accommodate taller sleepers.
Most, if not all mattress types are available as a twin bed. If you like a conforming bed that cradles your body, you might want to consider a memory foam mattress. Latex foam has a similar feel, but it also costs more than a memory foam bed. For some shoppers, the extra cost is worth latex's durability and eco-friendly production.
Want a mattress that buoys your body while still relieving pressure? Hybrid mattresses are a good choice for sleepers who want a mix of bounce and cushion.
Other Mattress Sizes
Some people need more space than what the smaller size twin and twin XL mattresses provide. There are larger mattresses to consider, from full mattresses to king beds.
Full
A full size mattress measures 54 inches by 75 inches. If a twin mattress is too small for a single sleeper, a full bed provides the space needed to spread out without dominating the bedroom.
Although full mattresses are also called double beds, full mattresses are a better option for solo sleepers than couples. When two people lie down on a full bed, each person will have a sleeping space roughly the size of a crib mattress. Couples looking for a mattress to share should consider a queen or larger.
Queen
A queen size mattress is 60 inches wide and 80 inches long. Many couples choose to sleep on a queen mattress instead of a king to save money and space. Single sleepers also enjoy the amount of sprawling space a queen bed provides.
A queen size bed is arguably the most popular mattress size, which may explain why there are several variations. A California queen mattress is 4 inches longer than a traditional queen, while an Olympic queen is 6 inches wider than a regular queen.
For some couples, a queen bed isn't large enough to offer enough personal space. They may want to compare the benefits of a king vs. a queen mattress.
King
A king size mattress measures 76 inches by 80 inches, making it the standard size that offers the largest amount of space. Couples often choose a king bed so they can share a mattress without sleeping too close. Parents may also select a king mattress to give their child co-sleeping space.
California King
A California king size mattress measures 72 inches wide and 84 inches long, making it the longest standard size mattress. A California king mattress allows taller people to stretch out while still leaving plenty of room for a partner. Cal king beds also fit well in narrow master bedrooms.
If you're interested in comparing a California king to a traditional king, check out our king vs. California king mattress guide.
Frequently Asked Questions
Is a Twin Mattress Right For You?
There are six common sizes you can choose from when it comes to mattresses. A single or twin bed is the smallest option suitable for adults and just the right size for a smaller room. People who want a mattress to share or that they can sprawl on should look for a larger size like a full, queen, or king bed.
This article is for informational purposes and should not replace advice from your doctor or other medical professional.
Andrew Russell
, Wellness Writer
Andrew Russell is a part-time writer and full-time sleep enthusiast. At Zoma, Andrew lends his sleep expertise and writes many of our "better sleep" guides. Outside of Zoma, Andrew puts his advice to the test, always trying new ways to get deeper, more restorative sleep. We appreciate Andrew because he doesn't give advice that he doesn't follow himself, so you can feel confident his solutions for better sleep really do the trick. Andrew's work has been featured on Ladders, Bright Side, and several other publications.
View all posts