Best Mattress Under $1000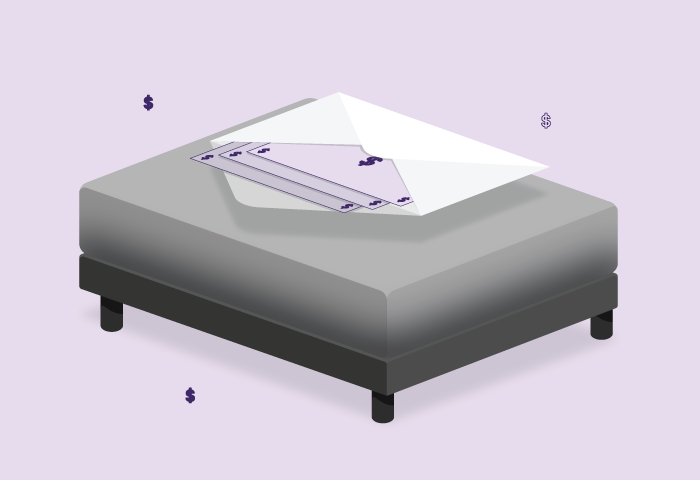 It's tough to shop on a budget and know you're still receiving a quality product, which is why we put together this guide to help you find the best mattress under $1000. When you're looking for a mattress, though, you'll want to look at more than a bed's price.
Consider its materials, whether it's made of memory foam, latex, or coiled innersprings. If you're buying a foam bed you'll want to look at the density of its layers to determine the support it will provide. And keep your sleeping position in the forefront of your mind as you shop, to better determine which bed can give you the full night's rest you need.
We'll go into further detail of the factors and features you should consider when selecting a new mattress, and how they work together in a quality bed. A great example of a quality mattress under $1000 is our Zoma Mattress. Priced at $699 for a queen size, the Zoma Mattress aims to provide a restorative night's sleep at an affordable price.
Best Memory Foam Mattress Under $1000: Zoma Mattress
We made the Zoma Mattress to be advanced enough for athletes, but it's designed to promote better sleep and provide pain relief and muscle recovery no matter your athletic ability.
Let's look at the layers of foam a little more closely. Not one of the layers, but worth a mention is the polyester-blend mattress cover. It includes elastic material for breathability.
The first layer is 2 inches of soft, gel-infused memory foam. The gels in the foam will keep you cool while you sleep, while the memory foam conforms to your body for relief from pressure and pain.
The first layer is where you'll find the unique material design of Triangulex™. The midsection of the foam is solid, to provide needed support for where most of your body weight will fall. But the foam forms into segments of triangles in the shoulder and leg area, to provide comfort and pressure relief.
The second layer is 2 inches of highly responsive Reactiv™ foam. With a "latex-like" feel, this layer brings some bounce to your bed and acts as the transition between the soft top layer and the supportive layer underneath.
The third and final layer is a 7-inch core of durable Support+ foam. This is the base of the bed and provides stability and structure.
The Zoma mattress comes with a 100-night sleep trial and a 10-year warranty.
Best Hybrid Mattress Under $1000: Zoma Hybrid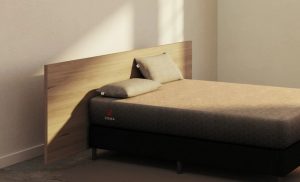 If you prefer a bed with some bounce, the Zoma Hybrid might be the perfect choice for you. Instead of supportive base foam, a layer of pocketed coils lifts the foam comfort layers.
The first layer is the same as the Zoma Mattress—2 inches of gel memory foam with triangular cutouts. The cutouts improve contouring and airflow, while the gels wick away excess body heat.
The second layer is also familiar, containing 2 inches of Reactiv™ foam. Reactiv™ improves the bed's reaction time, ensuring you never feel trapped in your mattress.
The third layer is where the hybrid's construction begins to differ from our memory foam mattress. Our hybrid in a box has 7 inches of pocketed coils, every coil wrapped to provide motion isolation. It's an excellent feature for couples, ensuring that one partner's movements won't disturb the other's rest.
The fourth and final layer is 1 inch of supportive foam at the mattress's base. This base foam gives the coils a surface to push off from, which helps the coils remain upright.
A queen size Zoma Hybrid is $999. Like the classic Zoma Mattress, a Zoma Hybrid includes a 100-night sleep trial and a 10-year warranty. The warranty offers coverage for any indentations that exceed an inch.
What to Look for in a Mattress Under $1000
First, it's important to know that all mattresses are made of layers. There is always at least two, a top comfort layer and a bottom support layer, though a well-designed mattress will have a third in-between layer to act as a transition. A mattress with three layers will cost more but will provide you with better support and comfort.
Second, we recommend a mattress no less than 10 inches tall. Anything less, and you risk not having adequate support and durability. You might have to settle for a thinner mattress if you're shopping on a truly tight budget under $500, but 10 inches is the minimum you should shoot for.
Third, a CertiPUR-US® certification is something to look for if you're concerned about the materials going into your mattress. CertiPUR-US® is a certification program for foams by an independent, not-for-profit organization. Certified foams are made without the following:
Ozone depleters
Mercury, lead, and other heavy metals
Formaldehyde
PBDEs, TDCPP, or TCEP flame retardants
Phthalates regulated by the Consumer Product Safety Commission
Certified foams also have low Volatile Organic Compounds (VOCs) emissions for better indoor air quality.
Finding the Mattress That's Right for You
How do you pinpoint the best mattress for your money? You need to consider not just price and features, but your sleeping style and what mattress type fits best with that. And of course, you need to know how to judge a mattress's materials and see what trials and warranties come attached.
Sleep Positions
Your sleep position affects the type of mattress you should look for, as the mattress firmness best for you depends on your typical sleep position. If you're unsure how you sleep, then just take note of the position you fall asleep in and the position you wake up in. The position you wake up in is likely to be your dominant sleeping position.
Side Sleepers
Side sleeping is the most popular sleep style, and can be further broken down into four positions, from most common to least:
Fetal, named for how it harks back to a fetus's position. Those who sleep in this position bend their legs at the knees and keep their back curled down to their legs.
Log, where the sleeper's arms and legs extend from the body, while the spine remains straight.
Yearner, named for how its sleepers reach their arms out as if trying to grab for something beyond them.
Sprinter, named for how the sleepers keep their arms, back, and one leg straight, while the other leg is bent at the knee.
If you're a side sleeper, look for a medium to soft mattress, as they tend to provide the right mix of support to promote a healthy spine while giving the shoulders and hips enough softness to relieve pressure.
Side sleepers may need to budget for a slightly more expensive mattress than back or stomach sleepers, as the softer mattresses most suited for them tend to be thicker than a firmer mattress, which means more materials used in its production and an added cost.
Read More: Best Mattress for Side Sleepers Guide
Back Sleepers
Back sleeping is the style naturally best for a healthy spine. Your weight is more evenly distributed than if you're sleeping on your side, and gravity doesn't pull the spine out of alignment as it does when sleeping on your stomach.
Back sleepers need a mattress in the medium-firm to firm range to keep their spines aligned, along with their hips and pelvis. Too soft a mattress will have your torso sinking into the mattress, leading to pain and poor sleep. And a too firm mattress won't provide support for the curve of your lower back.
While back sleeping is healthy, back sleepers are more prone to sleep apnea and snoring.
Stomach Sleepers
Sleeping on your stomach is not recommended, as it can lead to issues with your spine and back. Other less serious complications can include restless sleeping, premature wrinkles and acne breakouts. If possible, we recommend you try sleeping on your side or back.
If that's not feasible, a firm mattress can help to alleviate the effects of sleeping on your stomach. Sleeping on your stomach shifts your center of gravity to your midsection, and your torso may sink into the mattress and overextend your spine if the mattress isn't of proper firmness.
Combo Sleepers
Shifting positions frequently throughout the night is the sign of a combo sleeper. Combo sleepers should look for a mattress to act as a middle ground between the sleeping styles listed above. If you move between sleeping on your side and back, you'll need a mattress to provide the cushion and give your sides needs, but also the firmness your back needs.
Or you could try to determine what your dominant position is, and shop for a mattress that suits that position best. Take note of what position you fall asleep in and what position you wake up in. The position you tend to wake up in is likely your dominant sleep position.
You can even try training yourself to sleep in one position through the use of supportive pillows. Just decide whether you want to make the move to back or side sleeping, then surround yourself with a couple of pillows to keep you in place before you drift off to sleep.
Those who are happy as combo sleepers should look at medium to medium firm beds. Combo sleepers also need a resilient bed, one capable of bouncing back to its original shape, to allow for easy mobility. A bed too plush will swallow you up as you shift in your sleep.
Mattress Types
There are four main types of mattresses you'll come across as you shop around: memory foam, latex, innerspring, and hybrid. An air mattress or a futon are inexpensive options in the short run, but those four types should last you years and can provide you with the right balance of support and comfort for a good night's sleep.
Memory foam
Memory foam has grown in popularity with the rise of bed-in-a-box brands. Memory foam mattresses can be easily compressed and rolled up, allowing companies to ship them out from a warehouse. This new business model allows for free delivery, generous customer trials, industry-leading warranties, and being able to buy a luxury mattress at more affordable pricing.
Memory foam is polyurethane foam with added viscosity and elasticity. It can provide great pressure relief for chronic pain sufferers, as the contouring foam molds to the body and soothes the pain from pressure points in sensitive areas such as the neck, back, hips, and spine. Support foam beneath gives the bed its shape and structure.
Memory foam mattresses also provide motion isolation, so they're a great choice for anyone sharing a bed or sleepers who move around a lot in their sleep. The memory foam will keep your movements from disturbing yourself or your partner while you sleep.
Traditional memory foam form can hold too much body heat, creating a heat trap. One solution manufacturers may use is infusing the foam with various gels to prevent hot sleepers. Gel memory foam can reduce the retention of body heat, allowing for a cooler night's sleep. Materials other than a cooling gel might be added, such as copper or graphite, which both have cooling properties. Some brands will use more than one of these in their mattresses.
When considering a memory foam bed, look for its density. The density of the foam doesn't correlate to its firmness, but rather the support it will provide you. A higher density should offer more support, a lower density less.
If you're buying your first memory foam mattress, you'll also want to think about your existing bed's foundation. Memory foam mattresses need a solid and flat surface for uniform support. So if your previous bed was an innerspring mattress on top of a box spring, then you'll need a new foundation as a box spring does not provide adequate support for a memory foam mattress.
A good foundation has a price range of $200 to $300, though alternatives such as bunkie boards, which you place on top of a box spring, can cost as little as $50 to $60. Factor in that cost as you shop around for a good memory foam mattress. If your budget is tight, though, you can always keep your mattress on the floor either temporarily or permanently.
Latex
Latex foam is generally more breathable than traditional memory foam, which allows for the mattress to cool naturally. The material also gives more of a responsive bounce, whereas memory foam tends to cradle you. You're held more on top of the bed with latex.
The material's structure also gives a latex mattress inherent strength and durability. You'll find extensive use shouldn't leave it with deep impressions from your body, as it might in other mattresses. But that structure also has a downside, as some customers have found latex mattresses had a firmer feel than they were expecting. Many latex mattresses counteract this with a soft and plush pillow top.
Latex beds can be made from Dunlop latex, Talalay latex, or synthetic latex. We recommend you stay away from the synthetic blends if you can. It's hard to predict how long a synthetic blend will last, while natural latex has an average lifespan of about 15 years. We also advise anyone with a latex allergy to look at a different kind of bed.
Innerspring
The original mattress dwindles in popularity as time goes on and other mattress types are introduced and perfected, but you'll still find quality innerspring mattresses on the market. They're bouncy and responsive, keeping you lifted for good spinal alignment. Though, they can't match the cushiness of memory foam or latex.
Innerspring mattresses can be made from a selection of different materials, but typically you'll find they have thin, non-tempered steel. If the mattress has pocketed coils, it means the steel coils are wrapped in fabric or foam pockets for independent movement of each other, which prevents motion transfer and improves zoned support. Pocketed coils are also believed to last longer than other coil systems.
Hybrid
Hybrid mattresses are essentially a mix of memory foam and innerspring, pairing a pocketed coil system with foam layers. Sometimes it's memory foam layers, sometimes it's latex, and occasionally it's a combination of both. Often they're the most expensive kind of mattress available, because of their mix of high-quality materials.
Note what the top layer is made of, be it memory foam, poly-foam, or latex, and remember the tips we've offered on judging those. Then judge it further based on its coil count and the coil system setup.
Read More: Best Hybrid Mattress Guide
Mattress Firmness
Mattress firmness is one of the more opinionated ways to judge a mattress's quality. What one person thinks is too firm another will find just right. As we've already discussed, the perfect firmness level for you will depend on your sleeping style.
Side sleepers need a softer mattress, as a firmer mattress will be unable to conform to their body and provide pressure relief to their shoulders and hips. Back and stomach sleepers will need a firmer bed to keep their spines healthy.
You'll also want to consider your body weight as you shop for your perfect mattress. The best mattresses for heavy sleepers are firm to offer needed support. Petite, lightweight sleepers should conversely look for a softer mattress. The table below breaks it down:
| Weight | Mattress Firmness |
| --- | --- |
| Less than 130 pounds | Medium soft to soft |
| 130 to 230 pounds | Medium to medium-firm |
| 230 pounds and more | Medium-firm to firm |
Mattress brands also measure firmness options with a scale from one to 10, rather than just descriptions of firmness. One is the most soft while 10 is the most firm, but most of the mattresses on the market range from three to eight. This scale is still subjective, though, as what one company calls a four, another might call a five.
The most objective way to know a mattress's firmness is with its Indentation Load Deflection (ILD) rating. This is a measurement of how much weight the mattress can take before it indents up to one inch or 25 percent of the mattress's thickness. A firmer mattress gets a higher ILD rating, a softer mattress a lower one. This rating is not always openly displayed, and you may have to ask the company for it.
Since mattress firmness can be subjective, it's not a bad idea to skim customers reviews for comments about firmness before you buy. Did anyone get a firmer or softer mattress than they were expecting? Did it cause an uncomfortable night of sleep or back pain for anyone?
Sleep trials are another tool for getting your desired firmness in a mattress, as the company will work with you to ensure you are comfortable with your new bed.
Sleep Trials and Warranties
After mattress materials and firmness, the next thing you need to consider is the sleep trial period and the length and coverage of the warranty tied to the mattress.
The sleep trial is the number of nights a company will let you test out your product. Many mattress stores and online companies offer 90 to 120 days, and some even go so far as to let you try it out for a year. Keep in mind, it takes about 30 days to fully adjust to a new mattress, so don't be too quick to take the first few nights as a sign of whether or not a mattress is the right fit for you.
A warranty can cover you from any defects and will protect your investment, giving you more bang for your buck. Commonly, mattress warranties last for 10 years, which fits with the average mattress lasting about 7 to 10 years and will give you reasonable coverage. Some go as far as 20 years with prorated coverage, and there are a few offering a lifetime warranty.
Read through the warranty to see what is included, what you'll be held responsible for and what voids the warranty, as details can and do vary. Typicals claims likely to be covered are sagging beyond an inch without any weight present, rips or tears beyond expected wear, and damage to the mattress cover such as a broken zipper.

Frequently Asked Questions
Did We Help?
Our hope is this guide has left you prepared to face the mire mattress shopping can be. Mattresses can be expensive, but it's quite possible to find an affordable option and still meet your sleep needs. Don't believe saving money now will equate into saving yourself more money and trouble in the future.
A mattress that takes care of your body today will save you on expenses down the road, such as doctor visits or trips to a chiropractor. Your sleep quality isn't something you should compromise on, and a top-quality yet affordable mattress is always within your reach.
This article is for informational purposes and should not replace advice from your doctor or other medical professional.
Sarah Anderson
, Certified Sleep Science Coach
Sarah Anderson is a sleep, health, and wellness writer and product reviewer. She has written articles on changing and improving your sleep schedule, choosing the right mattress for chronic pain conditions, and finding the best pillow for you. Sarah Anderson has her Bachelor of Arts degree from Arizona State University in Journalism and Mass Communications. Prior to working for Zoma, she wrote for a variety of news publications. Sarah's work has been featured on Bustle, PureWow, and other publications.
View all posts