Mattress Sizes and Dimensions Guide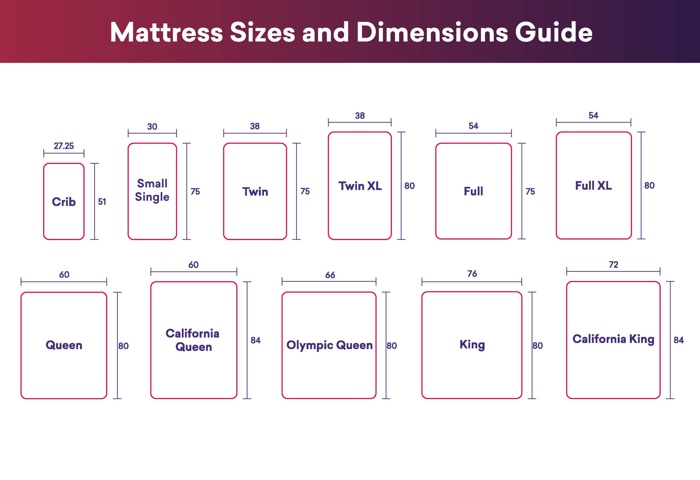 Size is one of the three main factors you want to think about when mattress shopping—the other two considerations are mattress type and firmness. With so many options and sub-categories to choose from, it can feel overwhelming to determine what the best mattress for you is.
Consider your bedroom's size and your budget, as well as how you'll use the mattress. A mattress you'll share with your partner requires a different size than a mattress for a small guest bedroom.
Mattress Sizes
No need to measure your mattress as our table covers the dimensions of standard and non-standard mattress sizes.
| Size Name | Dimensions in Inches | Dimensions in Centimeters |
| --- | --- | --- |
| Crib | 27.25 by 51 | 69.22 by 129.54 |
| Small Single | 30 by 75 | 76.2 by 190.5 |
| Twin | 38 by 75 | 96.52 by 190.5 |
| Twin XL | 38 by 80 | 96.52 by 203.2 |
| Full | 54 by 75 | 137.16 by 190.5 |
| Full XL | 54 by 80 | 137.16 by 203.2 |
| Queen | 60 by 80 | 152.4 by 203.2 |
| California Queen | 60 by 84 | 152.4 by 213.36 |
| Olympic Queen | 66 by 80 | 167.64 by 203.2 |
| King | 76 by 80 | 193.04 by 203.2 |
| California King | 72 by 84 | 182.88 by 213.36 |
Crib
A crib size mattress is roughly 2 feet by 4 feet and no more than 6 inches thick, made to fit inside a crib.
The federal government regulates crib mattress sizes for safety reasons, so it should be simple to find one that fits your crib.
The mattress should be firm, as soft bedding has been linked to sudden infant death syndrome.
Small Single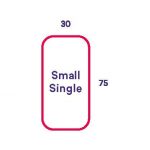 Small single size mattresses often transition a child out of the crib to sleeping in a bed.
Toddlers can sleep comfortably on one until the child grows enough for a twin size mattress.
A small single mattress can also serve as a small guest bed if you're tight on living space.
Twin
A twin size mattress is the smallest standard size mattress and is great for kids and single sleepers.
Most children can sleep on a twin size mattress into their teens, and some until they're ready to leave for college.
If you're limited on space, a twin bed is a great option for bunk beds and small guest rooms.
Twin XL
A twin XL size mattress offers five inches of extra length than a twin size mattress.
It's a good choice for growing children and taller individuals. A twin XL mattress is an excellent choice for a guest bedroom—it's inexpensive and can accommodate most guests while taking up relatively little space.
Most college dorm rooms have twin XL bed frames, though any college student who wants to bring a mattress should call the school to double check.
Full
Full size mattresses, also known as double beds, are best for single sleepers.
They have 16 more inches of sprawling space than a twin bed, while still fitting well in most rooms.
Since they offer a lot of sleeping space without taking up too much room, they're also a good option for a guest bedroom.
Full XL
With an extra five inches of legroom, a full XL mattress is good for tall single sleepers.
You can also keep it in a guest bedroom to accommodate all sizes of visitors.
As it is not one of the more common sizes, you might have to look for a bed frame and sheets online.
Queen
A queen size mattress is the most popular mattress size, as it can suit a variety of people.
It's small enough to fit in most rooms and large enough for two sleepers to share.
It's great for couples, single sleepers who like to spread out, and guest bedrooms.
California Queen
A California queen size mattress is four inches longer than a standard queen.
It's a good option for taller people with an average size bedroom.
However, you might have trouble finding a bed frame or fitted sheets for a California queen mattress, as it's not a standard size.
Olympic Queen
Sometimes called an expanded queen mattress, an Olympic queen size mattress is 6 inches wider than a standard queen.
An Olympic queen can offer couples a little bit more room without taking up the space that a king size bed would—and often at a price comparable to a regular queen mattress.
Like a California queen, an Olympic queen size mattress is not a standard size, which can make finding sheets and other bedding accessories difficult. Many RVs, campers, and mobile homes can accommodate an Olympic queen size mattress.
King
A king size mattress is the widest standard bed size available, making it a perfect choice for couples who like to spread out or parents who want to co-sleep with their children.
A king bed fits best in a spacious master room that's at least 12 feet by 12 feet.
California King
A California king size mattress is the longest standard size mattress, 4 inches longer and 4 inches narrower than a regular king bed.
Couples and single adults over 6 feet can enjoy the extra legroom.
Like a standard king, a California king bed fits best in a master bedroom 12 feet by 12 feet.
What about Split Sizes?
Split sizes let couples share a bed without compromising their comfort preferences. For example, if one couple likes a soft mattress and the other a medium-firm, a split mattress lets them set up their half of the mattress to their desired firmness.
Split mattresses also work well on adjustable bases. One half of a couple can raise their side of the bed while the other half lies flat.
The most common is a split king mattress, equal to two twin XL mattresses. Though less common, you can also find split varieties for queen mattresses and Cal king mattresses.
What Size Mattress Is Best for Me?
A high-quality mattress will last you several years, so you want to weigh all the factors when deciding the best size mattress for you, including the people that will be sleeping on the mattress, your room layout, and your budget.
Who Will Sleep on It?
If you're a single adult sleeping alone, you shouldn't need anything larger than a queen, although nothing is stopping you from sleeping alone in a king bed. However, a queen or full bed should offer you enough space to stretch out. A twin XL or full mattress can provide a good night's sleep without taking up too much space.
If you plan on sharing your bed with a partner or child, you want a queen size mattress or larger. And if you plan on sharing with your partner and your children, you want a king size mattress.
You also want to consider body types. If the mattress is for a sleeper more than 6 feet and 2 inches, you'll want a twin XL, full XL, queen, or king size mattress. If the person is 6 feet 7 inches or taller, you'll want a Cal queen or Cal king size mattress.
Room Layout
You don't want a mattress that leaves you with little walking space and no room for furniture. If your bedroom feels cramped because of a too-large bed, you might feel slightly claustrophobic when you try to fall asleep.
We recommend the following room sizes for each mattress:
Small single and twin: At least 7 feet by 10 feet
Twin XL and full mattresses: At least 9.5 feet by 10 feet
Queen mattress, all varieties: At least 10 feet by 10 feet
Standard and Cal king mattress: At least 12 feet by 12 feet
Similarly, you want to consider the room's location. Will you have to get your mattress onto a second or higher floor? Can you carry the mattress through the bedroom door, or will you have to do some extra maneuvering? A bed in a box mattress can make it easier to move your bed up the stairs and into a bedroom, but the boxes are still bulky and may require more than one person to carry.
Budget
Your budget determines what size options are available to you. Larger mattresses naturally cost more, but materials, trial periods, and warranties also affect a mattress's cost. Review all the other factors, think about the kind of mattress you would like, and set a realistic budget.
You can save money by ordering from online brands, which cut out the costs of a mattress store.
More Mattress Buying Considerations
When shopping for the best mattress, you have more to think about than just size. You also need to consider what materials and firmness are best.
Material
There are four main types of mattresses you'll find when shopping—memory foam, latex, innerspring, and hybrids.
Memory foam mattresses respond to heat and pressure, which is why the material is one of the best options for pressure relief.
Some customers like to compare memory foam vs. latex mattresses as the two have similar feels. Natural latex is firmer and more expensive, but it's also durable, sometimes lasting up to 20 years.
Innerspring mattresses are a classic bed, with a coil setup sandwiched between two bases of foam and fabric. Air flows through the coils freely, creating a cooling mattress for hot sleepers.
Hybrid mattresses mix elements from an innerspring and a foam mattress. A hybrid has two inches of foam on top of a coil support layer.
Firmness
Your preferred sleeping position and body weight determine the best mattress firmness for you.
The best mattress for a side sleeper is a soft to medium mattress.
The best mattress for a back sleeper is a medium-firm to firm mattress.
We strongly advise against stomach sleeping, as it can cause chronic back pain problems. Stomach sleepers who can't sleep in any other position should look for a firm mattress.
A mattress for a heavy person over 230 pounds should be firmer than average. For example, a heavyweight back sleeper might want a firm mattress instead of a medium-firm.
A petite sleeper under 130 pounds, conversely, should look for a softer mattress.

Frequently Asked Questions
Did We Help?
Your bed size contributes to your comfort just as much as the feel. It's not just how much sleeping space you have, but how the bed feels in your room—a larger mattress in a small bedroom can feel too cramped.
Visualize how the mattress will look in your room, how much space it leaves for walking, and whether or not you plan to add any bedroom furniture. You can use a measuring tape to get a rough idea of how much space everything would need.
This article is for informational purposes and should not replace advice from your doctor or other medical professional.
Sarah Anderson
, Certified Sleep Science Coach
Sarah Anderson is a sleep, health, and wellness writer and product reviewer. She has written articles on changing and improving your sleep schedule, choosing the right mattress for chronic pain conditions, and finding the best pillow for you. Sarah Anderson has her Bachelor of Arts degree from Arizona State University in Journalism and Mass Communications. Prior to working for Zoma, she wrote for a variety of news publications. Sarah's work has been featured on Bustle, PureWow, and other publications.
View all posts