Best Bed in a Box Mattress
Finding the right mattress can be a hassle if you go to a mattress store. You lie around on different mattresses to find what's right for you, and if you're a thorough shopper you probably do this at two or three different mattress stores.
Nowadays, the process can be simplified by online shopping. And with online shopping comes the idea behind the bed-in-a-box— finding the best mattress online, shipping it to your house in a box, and quickly setting it up. You can find bed-in-a-box mattresses in select storefronts as well.
We created this guide to cover the pros and cons of a bed-in-a-box mattress and the types of mattresses that can be shipped in a box. We also go over how to find a mattress that's right for you— no testing in a store needed— by understanding your preferred sleep position and firmness.
Best Memory Foam Mattress in a Box: Zoma Mattress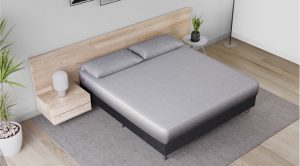 We created the Zoma Mattress to improve athletic performance, but the bed can help you achieve better sleep regardless of your lifestyle. The mattress is 11 inches thick with three layers of foam.
The top layer is 2 inches of gel memory foam. The cooling gels absorb body heat and cool the mattress, while the memory foam contours to the body for pressure and pain relief. Our Triangulex™ technology contains triangle-shaped cutouts in the shoulder and leg areas for extra pressure relief.
Next is a 2-inch layer of Reactiv™ foam. Reactiv™ is a latex-like material that adds some bounce to the bed.
The mattress's support layer is 7 inches of our Support+ foam, which gives the bed its durability.
Lastly, our mattress cover is made with polyester and a hint of elastane. The elastic cover creates air channels and allows the bed to breathe. It can be removed easily for washing or spot-cleaning. Zoma is also rated as the best memory foam mattress according to Sleep Junkie.
A Zoma Mattress is $799 for a queen size with an attached 10-year warranty and a risk-free 100-night trial. If you're not satisfied with your mattress after a month, we will issue a full refund.
Best Hybrid Mattress in a Box: Zoma Hybrid
We designed the Zoma Hybrid to offer the same recovery benefits as our classic memory foam model. The hybrid is 12 inches thick and features four layers instead of three.
The first layer is 2 inches of gel memory foam with Triangulex™ technology. Triangulex™ technology improves the bed's cooling and conforming abilities, creating a more comfortable sleeping surface.
The second layer is 2 inches of Reactiv™ foam. Reactiv™ foam makes the bed more responsive, which means the mattress adapts quicker to your movements.
The third layer is 7 inches of pocketed coils. The coils give the hybrid its structure and support. The packets that encase each coil prevent motion transfer and squeaky sounds, both of which can keep you up at night.
The fourth and final layer is an inch of supportive foam. The foam base gives the coils an even and supportive surface to push off from, which limits sagging.
A Zoma Hybrid is $999 for a queen size mattress. Like every Zoma mattress, a hybrid includes a 100-night sleep trial and a 10-year warranty.
Best Cooling Mattress in a Box: Zoma Boost
The Zoma Boost mattress is not only one of the most comfortable and cooling mattresses on the market, but it also comes in a convenient and easy-to-manage box. This makes it an excellent choice for those who don't want to deal with the hassle of traditional mattress delivery and setup.
Despite its compact packaging, the Zoma Boost doesn't sacrifice comfort or quality. In fact, it's designed to provide superior comfort, support, and temperature regulation for a great night's sleep. Rolling it up in a box simply makes its 15-inch construction easier to carry inside the home and to the bedroom. Let's take a look at what goes inside the mattress.
The pillowy surface relies upon an ultra-cool, advanced fabric cover to deliver instant chill upon contact, with its texture soft against delicate skin. The hypersoft quilted foam underneath the fabric ensures a plush cushion, like a cloud that's been stitched onto the surface.
The next layer is graphite-infused memory foam, which draws heat away from the sleeper and ushers it swiftly out of the mattress. The memory foam also offers deep compression for full-body pressure point relief.
Next is Reactiv™ foam, which buoys the body for minimal sinkage and easier movements at night or in the morning. Then the supportive core of pocketed coils offers responsive bounce and structural stability.
With the Zoma Boost, you can enjoy the luxury and comfort of a high-end mattress in a convenient and affordable package. Like all Zoma mattresses, the Zoma Boost ships free and comes with a 100-night sleep trial and a 10-year warranty.
What Is a Mattress in a Box?
To ship a bed-in-a-box mattress, a company rolls up a mattress and compresses it into a box. This makes the mail order mattress easier to send to the customer and saves on space in a delivery vehicle. After it's shipped, the mattress is delivered right to your home.
Many bed-in-a-box mattresses are foam beds— memory foam, latex, or polyurethane. Some hybrids are compressed for shipping as well, so you can find high-quality hybrid mattresses in a box, but you won't find many innerspring mattresses sold as a bed-in-a-box. Mattress coils do not compress well, especially if they are thicker coils.
Does Compression Damage the Mattress?
Mattress companies design bed-in-a-box mattresses to be compressed, shipped and unpacked within a reasonable amount of time.
However, if your mattress is not unpacked within a reasonable amount of time, and is instead left compressed for more than a few months, it may show signs of damage when it's finally unboxed. If the mattress is damaged, it may not fully expand to its proper shape.
Your mattress most likely will be fine if it's left boxed for a few days, but we advise setting it up as soon as possible because the attached warranty may be voided if it's not unboxed within two or more weeks. Once unboxed, give your mattress a couple of days to expand.
Setting Up Your Mattress in a Box
If you order a bed-in-a-box mattress, then it will be your responsibility to set up your new mattress once it's arrived at your home. The exception is if you pay for white glove delivery and have the delivery team set up your new mattress and haul your old mattress away.
Instructions for unboxing a mattress can vary slightly by brand, but most of them read something like this:
Take the box to your bedroom before opening it. Do not unpack the mattress outside of your bedroom, as the mattress is easiest to carry while it's still boxed up.
Once the box is opened, take the mattress out and unroll it on your bed frame or foundation to make sure it fits. Do not remove the plastic cover around the mattress just yet.
Once you're certain your mattress fits on its frame or foundation, carefully remove the plastic mattress bag with a cutting tool.
Remove the plastic mattress bag to let the bed expand. Your mattress needs 8 to 72 hours to finish expanding, although you should be able to sleep on it the first night.
If your mattress does not fully expand within a week, reach out to customer service. The mattress is most likely defective and you will need to return or exchange it.
Buying Online
You'll find most bed-in-a-box mattresses are available online, and some are sold exclusively online. Online shopping has its pros and cons.
Lower price points are one advantage of online mattresses. An online mattress company typically doesn't have the overhead costs that come with a storefront (such as renting a building, staffing it, and maintaining it). Fewer overhead costs mean an online mattress company can afford to sell at lower prices.
Convenience is another plus to online shopping. It's easy to compare mattress features and prices by using a search engine, and you can quickly find customer reviews and double-check for any certifications such as CertiPUR-US®. Then, you can place an order for the mattress you like from the comfort of your house.
However, unlike buying a mattress in a store, where you can pick one out and take it home the same day, you need to wait for a bed-in-a-box mattress to be compressed and shipped to your home. This can take several weeks, which can be inconvenient if you need a new mattress sooner rather than later.
You might be hesitant about buying a mattress sight unseen, but a 2011 study suggests that trying out a showroom mattress isn't as helpful as shoppers think it is. Spending a few minutes on a mattress can't give you a full idea of what it will be like to sleep on that same mattress every night. If you purchase a mattress with a sleep trial, however, you have the chance to try out your mattress after you buy to make sure it's the right one for you.
If you're still uncertain about buying a mattress without testing it beforehand, check the company's website to see if they have a showroom location near you. Some of the larger bed-in-a-box companies have retail outlets set up in select cities.
Mattress Types
There are various types of mattresses on the market, but not all of them can be compressed for shipping. Still, you'll find most of the main types of mattresses can be boxed up and delivered to your house.
Foam
Foam beds are the most common type of bed-in-a-box mattress, as the material is easily compressed for shipping. Foam mattresses typically consist of two to four foam layers, with the basic model made up of a top comfort layer and a layer of support foam underneath. There are three main types of foam mattresses— memory foam, latex, and polyurethane foam.
Memory Foam
A memory foam mattress is one of the best beds to prevent pressure buildup. The material conforms to a sleeper, supporting all parts of the body and taking the pressure off of sensitive areas such as the joints.
Memory foam also offers motion isolation superior to any other type of mattress, making it a good choice for sleepers who share a bed. And while the springs of an innerspring or hybrid mattress might creak under movement, a memory foam mattress makes no noise no matter how much a sleeper might toss or turn.
The drawback to traditional memory foam is its tendency to retain heat. Mattress brands address this issue by adding cooling gels or other materials such as copper, graphite, or charcoal. Cooling agents absorb or wick away heat through the mattress.
The average lifespan of a memory foam mattress is seven years, and high-quality memory foam mattresses can last eight to ten years.
Latex
Mattress companies make latex beds either from the sap of rubber tree (for natural latex) or by combining organic compounds (for synthetic latex). Natural latex is manufactured without cutting down the rubber tree or creating pollutants, making a natural latex mattress an eco-friendly option.
Latex is bouncy and breathable and conforms well to a sleeper's body. The material is firmer and more responsive than memory foam.
Natural latex is a resilient material and a mattress made with it can last up to 15 years. However, a latex mattress is one of the pricier beds on the market. Sleepers considering a latex mattress should check to see if the mattress is made with natural or synthetic latex, as synthetic latex has a shorter lifespan and is not as environmentally friendly.
Latex can have a firm feel, and some sleepers find they sleep better on it with an added pillow top.
Polyurethane Foam
Polyurethane foam, sometimes shortened to poly-foam, is a synthetic material often found in budget mattresses. It's an inexpensive foam created from petroleum.
A poly-foam mattress can be more affordable than memory foam or latex beds. However, the material is often low-quality and prone to relatively quick deterioration. Many poly-foam mattresses also fall short of our recommended thickness of 10 or more inches, which leaves a sleeper without full support.
Innerspring
Innerspring mattresses are the traditional mattress and remain a popular choice, even as the mattress market grows more diversified. Innersprings have coil support systems in their base, which allow air to flow easily in and around the coils and through the mattress, keeping the sleeper cool.
Although innerspring mattresses are popular, they have some of the lowest scores when it comes to customer satisfaction. They're also one of the least durable mattress types, with the average innerspring lasting about six years. As the coils of an innerspring mattress wear out, the mattress sags and the coils lose support, causing it to become unusable.
We advise caution if you're considering an innerspring mattress that's packaged as a bed-in-a-box. The bed might have thinner coils to make it easier for the mattress to be compressed. Thinner coils tend to wear out sooner than thicker coils do, so a bed-in-a-box innerspring mattress might not be the most resilient of beds.
Hybrid
A hybrid mattress has supportive coils and at least three inches of foam. Typically, the coils are wrapped in fabric or foam to prevent motion transfer. Air can slip between the coils to keep a sleeper cool, but a hybrid's foam layers keep it from being as breathable as an innerspring mattress.
Hybrids can offer a mix of bounciness and contouring, thanks to their mix of materials. However, a hybrid's combination of different parts can make it more expensive.
Hybrids have a slightly longer expected lifespan than an innerspring mattress, close to seven years. Like innerspring mattresses, hybrids come with the risk of coils sagging as they age.
Sleep Styles
You may have noticed you sleep better on your side than on your back— your preferred sleep position is the one you most often fall asleep and wake up in. Your favorite sleeping position not only influences how well you sleep but should direct you toward your best mattress.
Side Sleeping
Sleeping on the right side can reduce pressure on the heart and prevent neurodegenerative diseases such as Alzheimer's by helping the brain more effectively dispose of waste proteins. However, to make the most of the position, side sleepers need a mattress with the right balance of plush give and support.
We recommend a memory foam mattress for side sleepers, as its contouring ability can target pressure points in the shoulders and hips. For firmness, we advise side sleepers use a soft to medium mattress.
Back Sleeping
Back sleeping keeps your spine in a neutral position through the back's direct contact with the mattress. Your body weight is evenly distributed, preventing pressure from building up.
A medium-firm to firm mattress is best for most back sleepers. We recommend a second pillow under the knees, to prevent pressure from building in the lower back.
Stomach Sleeping
We advise stomach sleepers to consider a change to side or back sleeping. Sleeping on the stomach night after night can cause chronic back pain and neck pain.
Stomach sleeping shifts the body's center of gravity to the lower torso, which can cause the stomach to sink too deeply into the mattress. If the stomach sinks too far, your spine develops an unhealthy arch that places more stress upon it.
A stomach sleeper can change their sleep style by using a body pillow or two to stay on their side.
If you're stuck in the habit of stomach sleeping, we recommend a firm mattress. We also advise using a thin head pillow (or even skip the pillow) and placing a second pillow kept under the stomach to prevent sinkage.
Combination Sleeping
Many sleepers don't rest in one position all night and instead switch between positions as they sleep. A combination sleeper might consider a medium mattress to best act as a middle ground between all sleep styles.
Combo sleepers can also train themselves to rest in one position. Sleepers can hold onto a body pillow or attach a tennis ball to the front and/or back of their sleepwear to better stay in place.
Mattress Firmness
You don't need to lie down on five or six different mattresses to find your perfect firmness. Just consider your personal preferences, sleeping position, and body weight as you shop.
The amount of body weight that presses down on a mattress affects its feel. The best mattress for a heavy sleeper who weighs more than 230 pounds is a firmer mattress. Conversely, a lightweight sleeper who weighs less than 130 pounds should try a soft mattress.
We've talked about firmness labels such as "medium-firm" and "medium-soft." Companies determine the firmness level of each mattress by using the firmness scale.
The firmness scale runs from 1 to 10, with one as the softest possible mattress and 10 as the firmest. Most mattresses range between 3 and 8, as extra soft and extra firm mattresses are unsuited for most sleepers.
| Firmness Scale Rating | Firmness Description |
| --- | --- |
| 1 | Extra soft |
| 2 and 3 | Soft |
| 4 | Medium-soft |
| 5 | Medium |
| 6 | Medium-firm |
| 7 and 8 | Firm |
| 9 and 10 | Extra-firm |
Each company interprets the firmness scale differently, so the criteria for firmness options can vary. Take a moment to look at customer feedback and mattress reviews to see if anyone bought a mattress firmer or softer than expected.
Beds with edge support have firmer edges to make it easier to get in and out of bed, at the cost of reducing the bed's sleeping surface. Typically, the best mattresses for hip pain, back pain, or heavyweight sleepers include edge support.
Mattress Sizes
Bed-in-a-box mattresses come in all sizes. Knowing the length and width of each can help you determine if it's the right fit for your home.
| Mattress Size | Dimensions in Inches |
| --- | --- |
| Twin | 38 by 75 |
| Twin XL | 38 by 80 |
| Full | 54 by 75 |
| Full XL | 54 by 80 |
| Queen | 60 by 80 |
| King | 76 by 80 |
| California King | 72 by 84 |
Sleep Trial, Warranty, and Return Policy
When you buy a mattress, you're not just buying the physical mattress. You're also paying for the attached sleep trial, warranty, and return policy.
Our advice is to always buy a mattress that comes with all three policies, as they're a stamp of the company's faith in a mattress's quality.
Sleep Trial
Mattress companies offer sleep trial periods to give customers a chance to test their new mattress. Many sleep trials last between 90 to 120 days, but you can find a few that last a year.
Warranty
A warranty protects the customer from mechanical and workmanship defects. A mattress warranty can also give you an idea of how long the bed will last if properly maintained.
Defects mattress warranties often cover include:
Splits or rips in the foam
Sagging beyond an inch
Torn seams
Burst coils
Damage to the cover's zipper
Most mattress warranties cover 10 years, as per industry standard. Some warranties stretch to 20 or 25 years, and a few mattresses come with lifetime warranties.
We recommend knowing the warranty's details and what can void it before you set up your mattress. Leaving your mattress in the box for too long, setting it up on an improper foundation, and removing the law tag can void the warranty.
Return Policy
A return policy describes how and why you can return your mattress. We recommend giving the return policy a readthrough before you purchase a mattress.
Keep these questions in mind as you read, and reach out to customer service if any are left unanswered:
How do you process a return? Do you email the company or give a representative a phone call?
What condition does the mattress need to be in? Many companies won't take back a mattress if it's been damaged or stained. Some won't take it back if it's been opened.
When is the mattress eligible for a return? Some companies won't accept a return within the first few days or weeks, to give you a chance to try out the mattress.
Do you return your mattress yourself, or does the company pick it up?
How much money will you get back? Some companies give you a full refund, others may charge a return fee or restocking fee.
Frequently Asked Questions
Did We Help?
You don't have to leave your home to find the perfect bed-in-a-box mattress for you. Just keep in mind your sleeping position, ideal mattress firmness, and room dimensions as you shop and you can find a bed right for you. And remember our advice to never buy a mattress without an attached sleep trial, warranty, and return policy.
This article is for informational purposes and should not replace advice from your doctor or other medical professional.
Sarah Anderson
, Certified Sleep Science Coach
Sarah Anderson is a sleep, health, and wellness writer and product reviewer. She has written articles on changing and improving your sleep schedule, choosing the right mattress for chronic pain conditions, and finding the best pillow for you. Sarah Anderson has her Bachelor of Arts degree from Arizona State University in Journalism and Mass Communications. Prior to working for Zoma, she wrote for a variety of news publications. Sarah's work has been featured on Bustle, PureWow, and other publications.
View all posts