Best Gel Memory Foam Mattress
If you wake up sweaty or can't fall asleep because you feel too warm, a gel memory foam mattress might be the perfect answer. Gel foam mattresses feature all the benefits of a traditional memory foam mattress, while also contouring to your body to wick away heat.
The best gel memory foam mattresses combine coolness with pressure relief and full-body support. They may also feature some of the most notable features of top memory foam mattresses, such as targeted support and a durable structure.
Best Gel Memory Foam Mattress Overall: Zoma Mattress
Our Zoma Mattress was made to improve sleep quality for faster recovery—and its gel memory foam will keep you cool for undisturbed sleep. The 12-inch mattress has three layers of CertiPUR-US® certified foams.
The top layer is 2 inches of gel-infused memory foam with Triangulex™ cutouts. The triangular cutouts in the leg and shoulder areas compress when you lie down, creating more cushion. Air also flows through the cutouts and wicks away heat.
The second layer is 2 inches of Reactiv™ foam. With its latex-like responsiveness, Reactiv™ adapts to your movements and prevents you from feeling stuck in the mattress.
The base layer is 8 inches of Support+ foam, a durable material that resists sagging.
A soft, polyester-elastane cover creates air channels when you move on the mattress, increasing the bed's breathability.
A queen size Zoma Mattress is $799. Every mattress includes free shipping and returns, a 100-night sleep trial, and a 10-year warranty that covers sagging greater than an inch.
Best Affordable Gel Memory Foam Mattress: Zoma Start
Our Zoma Start is a premium gel memory foam mattress that offers you the perfect balance of comfort and support at a budget-friendly price. Featuring three distinct layers of foam, the Zoma Start is designed to cradle your body and provide you with the restful sleep you deserve.
The top layer of the Zoma Start is a gel-infused memory foam that contours to your body, relieving pressure and offering superior comfort. The middle layer is our Reactiv™ foam, ready to respond to your movements, providing just the right amount of support and cushioning. And the bottom layer is a durable Support+ foam that adds to the mattress's longevity and overall support.
Our CertiPUR-US®-certified foams ensure that you are sleeping on a safe and healthy surface, free from harmful chemicals and toxins. And with our 100-night sleep trial and 10-year warranty, you can rest easy knowing that you are making a smart investment in your sleep health.
Best Gel Memory Foam Hybrid Mattress: Zoma Hybrid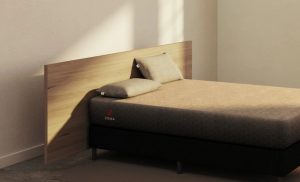 The Zoma Hybrid mattress is the perfect blend of the conforming and pressure-relieving properties of gel memory foam with the sturdy support of pocketed coils. If you want more responsiveness and buoyancy, the Zoma Hybrid might be just what you need.
The gel memory foam is the first thing many notice, feeling gently cool on the body and preventing sleep interruptions caused by overheating. The foam also conforms to the sleeper's body, providing pressure relief to sensitive areas.
Next, the Zoma Hybrid features Reactiv™ foam, a responsive foam that provides cushioning without causing excessive sinkage, ensuring that the sleeper stays supported and comfortable throughout the night. The Reactiv™ foam also promotes airflow, keeping the mattress cool and comfortable.
The third layer of the Zoma Hybrid is the pocketed coils, providing the bed with sturdy support. The coils are designed to contour to the sleeper's body, providing support where it's needed most. The coils also reduce motion transfer, ensuring that partners don't disturb each other's sleep.
In addition to its high-quality construction, the Zoma Hybrid comes with a 100-night sleep trial and a 10-year warranty.
What is Gel Memory Foam?
To explain gel memory foam, we must first understand traditional memory foam. Memory foam is a viscoelastic material that responds to heat and body weight. The material owes much of its popularity to the bed in a box mattress trend, since memory foam is a pliable material that compresses well. Owners also love memory foam for its pressure point relief and motion isolation abilities.
Traditional memory foam's main drawback is that it retains body heat. The foam's density prevents air circulation from wicking away heat, causing heat build-up that disturbs sleep. Gel memory foam solves the problem by adding cooling gels that absorb and remove body heat.
Who Should Sleep on a Gel Memory Foam Mattress?
Almost anyone can sleep comfortably on a gel memory foam mattress. However, it's an excellent choice for:
Athletes, who tend to sleep hot because of their increased muscle mass. They also need more sleep than the average person, so a mattress for an athlete needs to prevent sleep disturbances, such as waking in a sweat.
Chronic pain sufferers, since the cool feeling and memory foam's pressure relief let you sleep pain-free.
Overweight people, because they may sweat more than the average sleeper and sink deep enough into the mattress to restrict airflow. A mattress for a heavy person needs a firm, cool feel.
Couples, because not only does the memory foam prevent a partner's movement from disturbing the other, but the cooling gels help offset the shared body heat.
Judging a Gel Foam Mattress's Quality
First, consider how the gel is incorporated in the mattress. Some mattresses have a gel pad layer on top of the mattress, some have gel beads spread throughout the mattress, and others have cooling gels infused into the foam mixture before it sets. Cooling gels are infused in the mattress one of two ways—a solid infusion disperses the gel evenly throughout the mattress, while a swirled infusion is scattered throughout part of the mattress.
We recommend a gel-infused memory foam mattress with a solid infusion, because it's the most effective option for drawing away heat.
You also need to consider the gel foam's thickness. According to data from Sleep Like the Dead, mattresses with gel memory foam layers that were 2 or more inches thick kept cool longer than mattresses with less than 2 inches of gel memory foam.
Like traditional memory foam, gel memory foam tends to have a chemical smell for a few days after unboxing. The odor occurs as volatile organic compounds (VOCs) are exposed to open air and break down in a process known as off-gassing. High-quality memory foam has a shorter off-gassing period than lower quality foam.
If you're sensitive to smells, look for a mattress with a CertiPUR-US® certification, since it guarantees a mattress contains low amounts of VOCs.
How Much to Budget?
Gel memory foam mattresses are comparable in price to a standard memory foam mattress, with quality beds costing between $500 to $1500—although many excellent memory foam mattresses cost under $1000.
How much you need to budget for a gel memory foam mattress depends on your preferred size and sleeping position. A larger mattress means more production costs. Side sleepers need thicker comfort layers to relieve pressure points than back or stomach sleepers, which also drives up production costs.
If you can't afford a new gel memory foam mattress right now, you can always tide yourself over with a gel foam topper. A mattress topper adds a few extra inches of gel foam to your bed for a cooler feel. Gel foam toppers tend to cost between $100 to $300, a fraction of what a quality mattress costs.
Cooling Alternatives to Gel Memory Foam
Adding cooling gels isn't the only way to keep a memory foam mattress from overheating. Manufacturers sometimes use other materials to create a cooling memory foam mattress.
A common alternative is to infuse another conductive material to wick away heat. Copper is a popular choice, as it also has antimicrobial properties. Other infusions include graphite, charcoal, ceramic beads, and green tea extract.
Some manufacturers use plant-based memory foam, created by substituting petrochemicals with plant-derived materials during production. Plant-based foam is not only more eco-friendly than traditional memory foam, but also more breathable and responsive.
Other Mattress Types
Perhaps a gel memory foam mattress isn't the best mattress for you. If so, you might consider a latex, innerspring, or hybrid mattress.
Latex
Latex is like memory foam, as it conforms to body weight for pressure relief. However, there are a few key differences—latex is a springier material that tends to keep you feeling lifted. Latex is also naturally firmer and cooler than memory foam.
If you're an eco-friendly shopper, a natural latex mattress is an excellent option. Manufacturers produce natural latex from rubber tree sap, although Dunlop latex is the only latex that is 100 percent natural. The other natural latex option, Talalay latex, has chemical fillers to soften the material.
Natural latex mattresses are one of the more expensive mattresses on the market. Synthetic latex is more budget-friendly, with the trade-off that it's much less durable than natural latex. While a natural latex mattress may last 15 or more years, synthetic latex often breaks down within six years.
See our gel memory foam vs. latex mattress guide for an in-depth comparison.
Innerspring
Though innerspring mattresses have become somewhat overshadowed by other mattress types, they remain a familiar mainstay. Many customers still choose an innerspring mattress for its bounce.
An innerspring mattress is an excellent cooling mattress because the coils allow room for airflow. However, the mattress's interior space also gives allergens and dust mites plenty of room to collect and multiply. The coils also tend to sag within five to six years.
Innerspring mattresses also have low customer satisfaction scores, with many owners complaining about insufficient pressure relief. The thin comfort layer typically isn't enough to prevent you from feeling the coils pressing up against your body, adding to the pressure rather than alleviating it.
Hybrid
Hybrid mattresses draw upon the best of innerspring mattresses and foam mattresses. A hybrid's comfort layers may have 2 to 3 inches of gel memory foam, traditional memory foam, latex, or poly-foam.
The coils support layer typically has pocketed coils to prevent motion transfer, with every coil wrapped so it can react independently. If grouped close, the coils can offer extra support for the head, shoulders, lumbar, hips, and feet.
Hybrid mattresses have a high price tag since they blend high-quality foams with coils. The average lifespan of a hybrid is six to seven years.
More Mattress Shopping Considerations
When looking for your perfect mattress, you want to consider your preferred sleeping position, what firmness and size suits you best, and the mattress's attached policies.
Sleeping Position
You probably fall asleep best in one position, whether it's lying on your side or snoozing on your back or stomach. No matter what your preference is, it's important to keep your spine in neutral alignment with the right mattress. How pressure accumulates in your body depends on the position, affecting what the best mattress firmness is for you.
Side Sleeper
Side sleeping is the most popular position, but you risk waking with sore hips and shoulders if your mattress can't soothe the pressure points that build in your side. Your hips and shoulders are where most of the pressure accumulates.
The best mattress for a side sleeper has a soft to medium feel to relieve pressure in the shoulders and hips. Make sure the mattress isn't so soft that your spine bows as you sink in.
Back Sleeper
Back sleeping naturally maintains neutral spine alignment, since your posture is close to what it would be if you were standing straight. The position evenly distributes your weight, which prevents pressure from building up in your body.
A mattress for back sleeping should have a medium-firm to firm feel for support.
Stomach Sleeper
If you're a stomach sleeper, we strongly recommend switching to side or back sleeping. Stomach sleeping overextends the spine when gravity pushes down on your stomach, causing back pain that can escalate into more serious back issues, such as sciatica.
If you love stomach sleeping, look for a firm mattress to prevent sinkage. We recommend keeping a pillow under your stomach as an extra precaution.
Combination Sleeper
Do you fall asleep in one position and wake up in another? Then you're a combination sleeper, moving throughout different positions in the night. A mattress with a medium firmness and motion isolation best suits the various positions and prevents sleep disturbances.
Mattress Firmness
Mattress companies have a 1 to 10 scale to determine the firmness level of a bed.
| Firmness Scale Rating | Firmness Level |
| --- | --- |
| 1 | Extra soft |
| 2 to 3 | Soft |
| 4 | Medium-soft |
| 5 | Medium |
| 6 | Medium-firm |
| 7 to 8 | Firm |
| 9 to 10 | Extra-firm |
The right firmness option for you depends on your sleep position and body weight.
If you're over 230 pounds, look for a firmer mattress to better take on your weight and contour to your body. If you're under 130 pounds, look for a softer mattress to relieve pressure.
Mattress Size
The best mattress size depends on the size of your room, your budget, and whether you're sleeping alone or sharing a bed. We strongly recommend leaving at least 30 inches of walking space around your mattress, along with any space needed for bedroom furniture.
Twin and twin XL size mattresses are excellent for smaller spaces, such as a child's room, guest bedroom, or studio apartment. Full size mattresses offer single sleepers the room to shift positions without rolling off the mattress.
A queen size mattress is the most popular size, since it fits in most bedrooms and suits couples and single sleepers. If you or your partner is more than 6 feet tall, you might want to consider a California king size mattress for the additional legroom. Read our Queen vs. California King guide for a full comparison.
Sleep Trial, Warranty, Return Policy
A quality mattress should come with a policy that lets you try it out at home for a set number of days and a guarantee that the company will repair or replace a defective mattress. Sleep trials, warranties, and return policies save you from having to spend extra money on another mattress if your new one is unsuitable.
Sleep Trial
Sleep trials are most commonly attached to online mattresses, although you can find in-store mattresses that have them. A person may need a month to adjust to a new mattress, and most trial periods give you much more time to decide how you like the mattress—typically between 90 to 120 days. If you don't find your mattress comfortable, you can return it for a full refund.
Warranty
One way to judge a mattress's quality is by examining its warranty. The mattress industry's standard for a warranty is 10 years—a shorter warranty may mean the mattress is made with lower-quality parts.
Check how deep the mattress needs to sag to be covered by the warranty—a good warranty covers sagging around an inch because a higher quality mattress is less likely to sag. The warranty of lower quality mattresses typically only covers sagging greater than 2 inches.
Return Policy
Return policies detail the conditions under which you can return the mattress. Some companies won't accept a mattress back if it's been opened, others will accept a return if the mattress is clean and undamaged. How you return the mattress can vary—a mattress company may pick up the mattress for you, or it might ask you to donate the mattress and show proof of donation before you receive a refund.
Other Ways to Keep Cool at Night
Sleeping on a gel memory foam mattress isn't the only measure you can take for a good night's sleep. Consider also your bedding, bed frame, bedroom setup, sleepwear, and bedtime routine.
Breathable Bedding
First, look at how much bedding you're using. Get rid of the duvet or quilt if you're sleeping hot, and try a light blanket or just the fitted sheet instead.
Then consider the materials of your sheets, blankets, and pillowcase—synthetic fabrics such as polyester and rayon trap more heat than natural fabrics. Cotton, linen, and bamboo are more breathable choices than silk or flannel sheets.
If you use a mattress pad, look for a thin one without a quilted design. Quilted mattress pads have thicker tops that can trap heat. Look for a breathable cotton top or a pad with cool gel fibers.
The breathability of your pillow depends on its fill. The best pillows for a cool night's sleep are down, shredded memory foam, latex, buckwheat, and cotton.
Ventilated Foundation
If your bed frame is solid, body heat may have difficulty escaping the mattress. The best foundations for a memory foam mattress have space in the bottom and around the sides for heat to disperse. We recommend slats that are at least half an inch thick and no more than 2.75 inches apart to maintain support for your mattress.
Lower the Thermostat
Your bedroom should be between 60 to 75 degrees Fahrenheit—it may take a few tries to find the exact temperature right for you. If you wake up shivering, raise the temperature a degree or two. And if you wake up sweating or are too warm to fall asleep, take the thermostat a couple of degrees down.
Wear Loose, Breathable Sleepwear
If you sweat through your pajamas, change them out for something lighter. Lose the flannel, silk, or polyester and go for a more breathable fabric like cotton or bamboo. Look for short sleeves and shorter pant length. Try going up a size as well, since a loose fit improves airflow.
Cool Off With a Warm Bath
You might be scratching your head at how a warm bath cools you down. When you soak in warm water, blood circulation to your hands and feet increases, causing your body to give off more heat and lower your core temperature. Try bathing an hour or two before bed in water between 104 to 109 degrees Fahrenheit.
Avoid Too Much Exercise Before Bed
Exercise raises your body temperature, which many believe can interfere with your body's natural cooldown. However, a 2018 review challenges this view, noting that in most reviewed studies, evening exercise can improve sleep quality. Only a strenuous workout within an hour of bedtime was found to negatively affect sleep quality.
If nighttime is your best time to work out, we suggest restricting your workouts to 5 to 7 p.m. The main exception is gentle stretches before bed, which can help your mind and body relax.

Frequently Asked Questions
Did We Help?
Gel memory foam improves upon traditional memory foam with its coolness while retaining memory foam's best features—pressure relief and motion isolation. It's a durable choice that can last up to a decade, providing you with many nights of comfortable sleep.
This article is for informational purposes and should not replace advice from your doctor or other medical professional.
Sarah Anderson
, Certified Sleep Science Coach
Sarah Anderson is a sleep, health, and wellness writer and product reviewer. She has written articles on changing and improving your sleep schedule, choosing the right mattress for chronic pain conditions, and finding the best pillow for you. Sarah Anderson has her Bachelor of Arts degree from Arizona State University in Journalism and Mass Communications. Prior to working for Zoma, she wrote for a variety of news publications. Sarah's work has been featured on Bustle, PureWow, and other publications.
View all posts