Memory Foam vs. Gel Memory Foam Mattresses: What's the Best?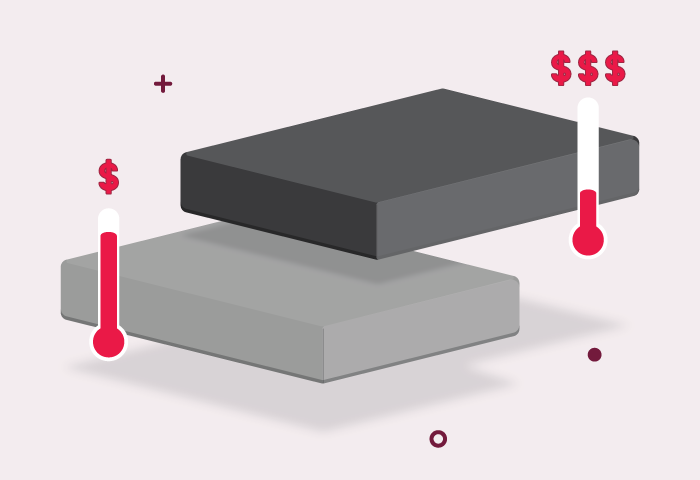 Memory foam beds are a popular mattress choice as they provide full-body support and pressure relief, isolate motion, and can last up to a decade. There's more than one type of memory foam mattress, however, and you might find yourself debating between memory foam and gel-infused memory foam.
In this article, we discuss the similarities and differences between memory foam and gel foam. We also give other bed options you can consider and answer a few frequently asked questions at the end.
What is Memory Foam?
To produce a memory foam mattress, manufacturers take polyurethane foam and add chemicals to make it sensitive to body temperature and pressure. The resulting viscoelastic foam molds itself around the body. The material's responsiveness is why it's called memory foam—it "remembers" your body.
What is Gel Foam?
Gel memory foam has many of the same properties as regular memory foam, such as contouring to relieve pressure points. When manufacturing gel memory foam, producers infuse cooling gels or gel beads—these infusions pull heat away from a sleeper for a cooler night's rest.
Similarities Between Memory Foam and Gel Foam
As memory foam and gel memory foam are such similar materials, they have a lot in common. One of their biggest draws is how well each foam molds to your body for pressure relief. Side sleepers and chronic pain sufferers can rest better on a memory foam or gel mattress.
Both are also excellent at preventing motion transfer, as the foams absorb motion at the point of impact. Couples can sleep comfortably together on a memory foam or a gel memory foam mattress.
Memory foam and gel foam mattresses also share one drawback. Many foam beds, particularly those with lower-quality foams, give off a chemical smell when opened. The odor is the result of volatile organic compounds (VOCs) breaking apart at room temperature, in a process called off-gassing. The scent typically dissipates within 3 to 7 days.
Difference Between Memory Foam and Gel Foam
The main difference between memory foam and gel memory foam is heat retention.
Traditional memory foam can trap body heat as a side effect of the foam's density. If too much heat accumulates in the mattress, it can disturb your sleep and cause you to wake in a sweat.
Adding cooling gels to the foam mixture improves the mattress's heat dispersion. The gels absorb heat and wick it away—and the more evenly the gels are distributed throughout the bed, the better they are at carrying away body heat.
As gel memory foam requires more materials, it comes with a higher price tag than regular memory foam.
Infusing gels is not the only way to create a more cooling mattress. Many manufacturers incorporate other materials such as copper or graphite or they substitute select petrochemicals with plant-based oils.
Possible Alternatives
If you decide against memory foam and gel memory foam, there are three other mattress types you can try. And if you like memory foam but are shopping on a tight budget, you might want to consider a topper.
Latex mattresses are a durable and eco-friendly option. The feel of a latex mattress is similar to memory foam, as it contours to your body. Yet the material is also cooler than memory foam, with an added bounce to it.
Innerspring mattresses contain a coil layer, surrounded by foam or fabric cushioning. They're inexpensive and easy to find at your local mattress store.
Hybrid mattresses contain elements from a foam bed and an innerspring mattress to offer the best of both. A hybrid has 2 to 3 inches of foam on top of a coil layer. The top layer of a hybrid can be memory foam, gel foam, latex foam, or poly-foam.
If your current mattress still provides a decent night's rest, but you want a different feel, you could buy a mattress topper. Toppers add a few extra inches of foam, creating a softer or firmer feel. You can buy a memory foam or gel memory foam topper for a fraction of what you would pay for a new mattress.
Other Buying Considerations
While your ideal type of mattress is important to think about, you'll also want to take a look at the mattress's attached policies, how well other customers slept on it, and the company behind the mattress.
Always look for an included sleep trial and warranty when you're mattress shopping. Sleep trials give you a chance to try out a mattress for 90 to 120 days. Warranties ensure a company will replace a mattress in the event of defects such as sagging, cracked foam, damage to the cover, and burst coils.
If a mattress catches your eye, take a moment to look up customer feedback and independent mattress reviews. Reviews give you an idea of a mattress's feel and its support, which is helpful if you're buying an online mattress sight unseen.
And don't be afraid to research a mattress brand's claims and its history. A good company should be transparent about how and where its mattresses are made.

Frequently Asked Questions
A quality memory foam mattress, whether gel-infused or not, tends to last 8 to 10 years if you care for it. Clean your mattress regularly and rotate it every three months to stretch out its lifespan.

No. Manufacturers construct memory foam mattresses with different layers, with the thickest and most supportive layer at the bottom and the memory foam layer on top. Flipping the mattress puts the support layer on top and presses the comfort layer into the bedframe.

The few memory foam mattresses that are flippable tend to have different firmnesses on each side, so you may not find both sides comfortable.

The initial smell of a memory foam mattress should disappear within a week if it's in a well-aired room. If you're concerned about the smell, look for a mattress with CertiPUR-US® certified foams, as they contain low amounts of VOCs for minimal off-gassing.
Did We Help?
The best mattress for you depends on your comfort preferences, favorite sleeping position, body type, and budget constraints. As memory foam and gel memory are so similar, with comparable prices and benefits, it can be challenging to decide between the two.
If you tend to sleep hot or live in a warm climate, you might want to try a gel memory foam mattress. Otherwise, you should be able to sleep fine on a memory foam bed, particularly if it has alternative cooling measures.
This article is for informational purposes and should not replace advice from your doctor or other medical professional.
Sarah Anderson
, Certified Sleep Science Coach
Sarah Anderson is a sleep, health, and wellness writer and product reviewer. She has written articles on changing and improving your sleep schedule, choosing the right mattress for chronic pain conditions, and finding the best pillow for you. Sarah Anderson has her Bachelor of Arts degree from Arizona State University in Journalism and Mass Communications. Prior to working for Zoma, she wrote for a variety of news publications. Sarah's work has been featured on Bustle, PureWow, and other publications.
View all posts